Iraq bombers target Baghdad ministries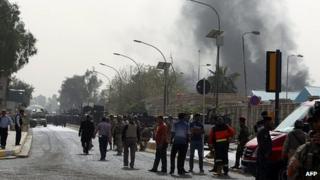 More than 20 people have been killed in a series of bomb and gun attacks on government buildings in the Iraqi capital Baghdad, police and medical sources say.
The apparently co-ordinated attacks left at least 50 people injured.
The justice ministry was among the buildings targeted.
Although violence has decreased in Iraq since the height of the insurgency in 2006 and 2007, bombings and shootings are still common.
Police say Thursday's attacks all happened near the Allawi area, not far from the heavily fortified Green Zone that houses several foreign embassies and Iraqi government offices.
Reports say at least three explosions, including two car bombs and a suicide blast, went off near a building housing the justice ministry at about 13:30 local time (10:30 GMT).
A police officer, who was among the security forces sent to clear the building, said about six gunmen wearing police uniforms had then tried to storm the building. Security forces eventually regained control, officials said.
Deputy Justice Minister Busho Ibrahim said more than 1,000 people were in the four-storey building when the attacks happened, but the minister was currently abroad.
"When the explosions and shooting started, the guards evacuated me out a back door, and I have no idea what happened after that,'' the Associated Press news agency quoted him as saying.
Accounts varied on exactly how many had died. However, officials quoted by Reuters said seven policemen and 15 civilians were killed, along with three militants.
The attacks come just days before the 10th anniversary of the US-led invasion of Iraq, and a month before the first elections in three years.
No group has said it carried out attack, but Sunni Muslim militants - including some with links to al-Qaeda - often target government officials and offices.