Israel helicopter crash kills two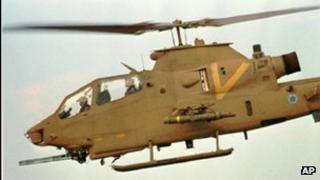 An Israeli attack helicopter has crashed in southern Israel, killing its two pilots, the Israeli military says.
The AH-1 Cobra helicopter was on a routine training mission from the Palmahim airbase when it crashed. The cause of the accident is not yet known.
"The remains of the helicopter were discovered and no survivors were found," the military said.
All Israel's AH-1 Cobra helicopters have been grounded pending an investigation.