Naming of Bahrain crown prince as deputy PM raises hopes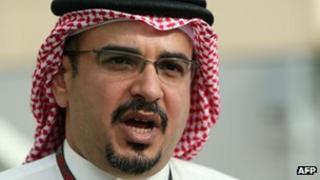 The appointment of the Bahraini Crown Prince to the post of deputy prime minister has raised hopes that a resolution to more than two years of unrest may be at hand.
The Crown Prince Salman bin Hamad bin Isa al-Khalifa, widely viewed as a moderate, had been effectively shunted aside by hardliners in the ruling family since protest and unrest began in Bahrain more than two years ago.
However his appointment by his father King Hamad is seen as a clear signal that the Crown Prince is back at the heart of efforts to resolve a political dispute between majority Shia Muslims and the Sunni royal family.
Shia have long complained of discrimination, high unemployment and poor housing and a partially elected parliament that is heavily gerrymandered to deny them a majority voice.
On 14 February 2011, peaceful protesters took over an iconic landmark in the capital Manama, Pearl Roundabout.
Three days later security forces cleared the site using tear gas, batons and birdshot. At least two people died and hundreds were injured.
Saudi pressure
Khalil al-Marzook, a senior member of the leading opposition al-Wefaq society has welcomed the appointment.
"The challenge (for the Crown Prince) will be to leverage this senior role. Now that he is in the government, we should see his reform agenda in practice rather than in words."
Mr Marzook denied a report that Saudi Arabia was holding unofficial talks with his society aimed at ending the unrest.
However the BBC was told that the claim was "100% accurate" by an independent Bahraini source.
Christopher Davidson a Gulf expert at Durham University was in no doubt that Saudi Arabia had brought pressure to bear.
"The Saudis know that its western allies will tolerate the current situation in Bahrain only so long."
He said the next Saudi generation represented by Mohammed bin Nayef, the 53 year old Minister of the Interior, are "better attuned to the sentiments of the region".
"Bahrain," Mr Davidson said, "is an extreme liability that requires a diplomatic solution."
If it is the case the Saudis have been influential in restoring him to a position of authority, the irony will not be lost on the crown prince.
After all, it was a Saudi led intervention in March of 2011 that effectively sidelined him and strengthened the hand of his hardline great uncle and long time Prime Minister Khalifa bin Salman al-Khalifa.
The intervention broke the back of the Pearl Roundabout occupation and led to a harsh crackdown on pro-democracy activists.
As violence escalated 35 people, including five police officers, were killed, hundreds more were hurt and thousands jailed in February and March 2011.
Since then, opposition and human rights activists say more than 50 people have died, a figure which the government disputes.
And unrest in Shia villages outside the capital has continued on an almost nightly basis as young Bahrainis armed with Molotov cocktails battle police using tear gas, birdshot and batons.
On Friday in further violence police used teargas and birdshot to disburse protesters at the funeral of Mahmood Aljazeeri who died 7 days after being struck by a teargas canister fired by police.
According to a police statement officers came under attack from protesters hurling Molotov cocktails and metal rods. Several officers were reportedly injured.
But al-Wefaq said what it called "regime forces" had opened fire on mourners at Mr Aljazeer's funeral.
"The forces used excessive force and extreme violence against the mourners and dozens were injured," the society claimed in a press release.
The ongoing violence has seriously damaged the economy of this Gulf island state.
"Good news"
An advisor close to the moderate faction in the ruling family who did not want to be named told the BBC: "This is good news. He is the only one (of the ruling family) that has appeal to everyone. He listens, he takes criticism, I am very excited by this appointment."
Mansoor al-Jamri editor of al-Wasat, the only independent newspaper in the kingdom said he was moderately optimistic.
"This is an important step that could represent the starting point for meaningful reform later on," he said.
The opposition has called for a constitutional monarchy, a fully elected parliament and a cabinet that is answerable to the people's representatives rather than the royal family.
However Durham University's Christopher Davidson cautioned that not too much should yet be read into the move.
"The appointment is something that King Hamad can use to show the west that Bahrain is moving forward on reform but whether this is a meaningful political concession remains to be seen."
But a decision by a court in Bahrain to acquit a leading human rights activist, Yousif al-Muhafda, after finding him not guilty of spreading false news on Twitter may be another signal that the government and the judiciary are adopting a more conciliatory approach.
Although authorities have insisted the courts are free of influence, observers and the opposition have long argued they are highly politicised.
Mr Muhafda's acquittal comes nearly two weeks after the United Nations condemned Bahrain for what it called the continued harassment and imprisonment of those exercising their rights to freedom of opinion and expression.