Syria UN hostages talks continue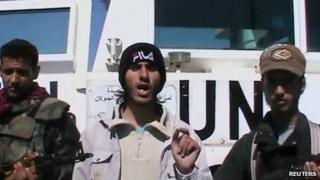 Negotiations to free 21 Filipino peacekeepers held hostage by Syrian rebels are continuing, despite earlier hopes the group would be released by Friday morning, the Philippines says.
An official said the rebels had not backed down on their demands for Syrian troops to be repositioned first.
The peacekeepers were seized by the Martyrs of Yarmouk group in the Golan Heights, near Israel, on Wednesday.
Some appeared in videos online, saying they were safe and being treated well.
The rebel group said it would free the men if Syrian troops withdrew from the area.
"The demand of the rebels for the repositioning of Syrian forces in the area of Jamla is still outstanding so this is still being worked out," Philippines foreign ministry spokesman Raul Hernandez said.
"I don't know exactly know what happened, why the expected release did not happen, but... [their] demand is still there,'' he told reporters in Manila, according to the Associated Press news agency.
The observers from the United Nations Disengagement Observer Force (Undof) had been monitoring the ceasefire line between Syria and Israel, which has occupied part of the Golan Heights since the 1967 war.
The UN said they had been on "a regular supply mission" when they were stopped by armed men near an observation post.
Several videos emerged on Thursday, showing groups of between three and six peacekeepers held captive.
Abu Essam Taseel, a spokesman for the Martyrs of Yarmouk, said the group would be "passed to safe hands when possible", adding that the area was currently under bombardment from Syrian forces.
On Friday morning he said no negotiations were taking place, contradicting Mr Hernandez, Reuters news agency reported.
The incident is a sign that the fighting between rebel groups and government troops of President Bashar al-Assad is spreading, and indicates a lack of central control among the rebels, correspondents say.
Meanwhile eight Filipino UN soldiers were evacuated to Israel from a post in the demilitarised zone in the Golan Heights on Thursday night, an Israeli army spokesman told the BBC.
The UN has had its monitors in the area since the 1974 ceasefire between Israel and Syria.