Shot Palestinian Mohammed Asfour dies in hospital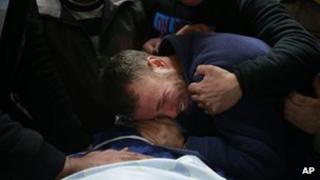 A Palestinian shot in the head by Israeli soldiers during a confrontation with stone-throwers has died of his wounds, hospital officials say.
Mohammed Asfour, 22 was hit by a rubber bullet during the protest in the West Bank village of Aboud on 22 February.
He had been protesting against the continued detention of four hunger strikers after the death of a detainee.
Israel says Arafat Jaradat, 30, apparently died from a heart attack. Palestinians say he was tortured.
Initially treated in a Palestinian hospital, Mr Asfour was later transferred to a hospital in Tel Aviv, where a spokesman said he died.
His family said his funeral would be held on Friday in Aboud. Anti-Israeli protests are expected.
The Islamist group Hamas, which governs the Gaza Strip, said Mr Asfour was one of its members.
Israel's military said it was "investigating an alleged incident that took place at a violent and illegal riot".
As of December 2012, Israel held 4,517 Palestinians in its jails.
Of these 1,031 are being held until the conclusion of legal proceedings, 178 are in administrative detention and 170 are under 18 years of age.
Israeli officials say they use administrative detention when they fear an immediate risk to security or to protect informants.