Israeli PM Netanyahu gets 14 more days to form government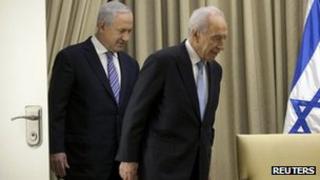 Israeli Prime Minister Benjamin Netanyahu has been given two more weeks to form a new government, following January's inconclusive elections.
The extension of the initial 28-day deadline was announced after he held talks with President Shimon Peres.
Mr Netanyahu's right-wing Likud-Beitenu bloc emerged as the largest grouping in parliament, but with a much reduced number of seats in parliament.
Mr Netanyahu has been unable to make a deal with potential coalition partners.
The talks began after Israel's right-wing and centre-left blocs each secured about half of the 120-member parliament (Knesset).
Obama pressure
Speaking after the meeting with President Peres on Saturday, Mr Netanyahu said that some parties were boycotting others.
The centrist Yesh Atid party and the right-wing Habayit Hayehudi (Jewish Home) are refusing to enter a coalition with ultra-Orthodox parties, who oppose their efforts to end military draft exemptions for students at religious seminaries.
Coalition talks are usually difficult and protracted in Israel and these have been no exception, the BBC's Yolande Knell in Jerusalem reports.
Mr Netanyahu now has until 16 March to form a new government.
Otherwise, President Peres can ask another political leader to try to form a cabinet. If that also fails, Israel might have to hold new elections.
However, most analysts still expect Mr Netanyahu to meet his new deadline, our correspondent adds.
But she says that a visit by US President Barack Obama scheduled for later this month is adding to the pressure.