Analysis: US Syria strategy aims to salvage reputation
By Shashank Joshi
Research fellow, Royal United Services Institute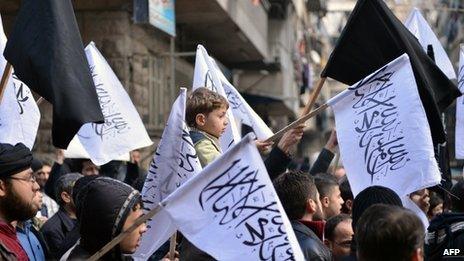 This week, new US Secretary of State John Kerry promised $60m (£40m) to the Syrian National Coalition, the political umbrella group for opponents of President Bashar al-Assad's beleaguered regime. But there is a certain irony to the fact that, while the cash was pledged to "non-lethal" assistance, US policy is increasingly being forced to accommodate itself to the armed, very much lethal side of Syria's rebellion.
Last summer, after former UN Secretary General Kofi Annan gave up on his peace plan for Syria, things looked hopeless. President Barack Obama's top national security officials all fell in line behind a plan to arm selected Syrian rebels.
But, according to reports in the Wall Street Journal, the president vetoed the proposal: He was concerned at whether the weapons would make their way to extremists, make much difference, or provoke Russia into a response.
Although the US had given its support earlier in the year to a Saudi Arabia, Qatari and Turkish effort to funnel arms to Syria, it changed its mind after seeing that jihadists were getting many of the weapons. The flow thinned out.
But fast forward to the beginning of this year, and the picture looks different. Syria-watchers, like the bloggers Eliot Higgins and James Miller, began noticing an influx of arms from the former Yugoslavia to southern Syria - most previous arms having come in from the north, via Turkey.
Piecing together various news reports, it seems that Croatian arms are being purchased by Saudi money, collected by Jordanian aircraft, and smuggled to groups who are almost certainly being vetted by the United States.
Why the shift in policy? First, the timing would indicate that the White House was waiting for last year's presidential elections to conclude.
Second, the rebels' performance in the north of Syria, strong as it has been over the last six months, wasn't having a decisive effect.
The aim of going through Jordan is to open up a new front in the south, and put more pressure on Damascus itself.
Third, America's European allies - notably France and Britain - were putting pressure on Mr Obama to change course. The administration wants to counteract the impression that its so-called "pivot" to Asia means inevitable retrenchment in the Middle East.
But the single most important factor behind this shift would have been the mounting recognition that US policy was causing enormous harm to its reputation amongst the Syrian opposition, allowing better-armed jihadist factions like Jabhat al-Nusra to eclipse their secular and nationalist counterparts, and even pushing many moderates into the jihadists' arms.
Ghaith Abdul-Ahad, writing in the London Review of Books, quotes one rebel as saying, bitterly: "Maybe we should all become jihadis. Maybe then we'll get money and support."
The Syrian opposition had grown so frustrated with Washington that, last week, Syrian opposition leader Moaz al-Khatib even threatened to snub a meeting with John Kerry.
US policy has to be understood in this light.
Last year, when the White House was weighing up its options, it was told by CIA analysts that US arms would not "materially" change the military balance. Perhaps new information or analysis revised this finding.
But a greater priority is to change the balance within the rebel ranks, ensuring that, when Assad falls, extremists are not able to win out in what is likely to be a vicious struggle for power.
The US and its allies are also deeply concerned about foreign fighters - including Americans and Europeans - joining the fight, and the problems that might arise when those cadres return home.
The US might argue that its vetting to this end is working: non-Islamist units of the Free Syrian Army, a loose network of rebel groups, seem to be the major beneficiaries so far.
This is also why the US is directly training rebels in Jordan - something it rejected last year - and trying to help the Syrian National Coalition deliver public services in rebel-held parts of Syria, something that jihadists have done to good effect and public approval.
But what is equally clear is that the US wants to keep its involvement at arm's length, refusing to provide weapons directly and keeping a low-profile.
In some ways, John Kerry's $60m is a curious proxy for the far more consequential flow of arms that is now resuming, a flow that the US wishes to disclaim in case it goes wrong and, like stolen weapons from Libya, results in dangerous weaponry seeping out of Syria's borders and into the fragile states around it.
Given the fluid connections between Syria's myriad rebel factions - Islamist, jihadist and secular alike - even meticulous vetting will not entirely prevent this.
Some will complain that the money is needed elsewhere.
The United Nations has said that $1.5bn in pledged aid simply hasn't appeared, with donors more interested in making eye-catching policy announcements than following through. The refugee crisis on Syria's borders is especially acute.
In early December, the Guardian reported that the CIA had issued an assessment predicting that Assad would fall within eight to 10 weeks. That time is now up. But American policy will move slowly. The tighter the vetting, the thinner the arms flow.
The US priority now is less to accelerate regime change than it is to salvage the West's reputation in Syria and make a belated effort to weaken the jihadist forces which have done so well out of this protracted struggle.