Syria crisis: Border town shows conflict's patchwork forces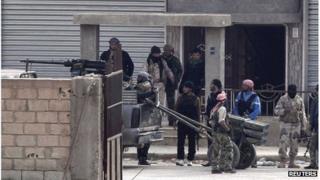 As the Syrian conflict grinds on, clashes in the north-east border town of Ras al-Ain reveal the complexity of the crisis, with increasing ethnic and sectarian tension accompanied by an international and regional dimension, writes the BBC's Murad al-Shishani.
Last November I lost contact with one of my sources in Syria. He had been giving me a very interesting insight from where he was based on the border with Turkey.
Ras al-Ain - or Serekani in Kurdish - in north-east Syria is an area divided between Arab tribes and Kurds.
There are also other ethnic groups, including a few Chechens and Ingush, whose ancestors migrated there from the North Caucasus in the beginning of the 20th century.
After about four months of absence, Walid Didigov - a Syrian of Ingush origin - appeared suddenly by instant message on my Facebook page.
He popped up a few days after Syrian rebels and a Kurdish militia, who have been fighting each other for months in a town near the Turkish border, signed a ceasefire.
I responded immediately. He was using a very slow internet connection and apologised for interruptions, which were also due to frequent power cuts.
"The ceasefire allowed me to reconnect," he told me. "This time I have joined the rebels, alongside my brothers and relatives. We have to choose between right and wrong and we choose to be on the righteous side: against the regime."
Mr Didigov says that he and his Chechen-Ingush relatives co-ordinate with "all armed groups in the area that are fighting against Kurdish militants supported by regime".
'Links to PKK'
Since November 2012, violence in the area has increased as rebels flowed in and Syrian President Bashar al-Assad's air force bombed it.
Kurdish fighters known as Popular Protection Units (YPG) had been battling to drive out insurgents from the Free Syrian Army (FSA).
The YPG says it has no political affiliations, but analysts say it has close ties to the Kurdistan Workers' Party (PKK), regarded as a terrorist organisation by Turkey, the EU and the US.
It launched an armed campaign for Kurdish autonomy against the Turkish government in 1984, since when more than 40,000 people have been killed.
Rebels accuse Syria's Kurds of exploiting the war in Syria to assert control over parts of the north-east.
Mr Didigov says: "We are fighting alongside various groups in Ras al-Ain: the Free Syrian Army (FSA), Ghuraba al-Sham, Ahrar al-Sham - sometimes we co-operate with al-Nusra front."
'Steadfast in battle'
Syrian opposition fighters vary between the loose secular umbrella of the FSA to al-Qaeda-style groups (specifically al-Nusra), as well as local jihadists such as Ghuraba al-Sham and Ahrar al-Sham.
Mr Didigov says all of these groups are trying to persuade him and his colleagues to join them because they have seen how well they perform on the battlefield. "They offer us weapons… and Islamist militants require anyone who joins to pray and not to smoke," he says.
However, Mr Didigov, after a few months of fighting, is not happy with what he describes as manipulation by all the players in the area.
"Turkey is afraid of Kurdish independence in Syria, and will make allegiances with anyone to stop them, therefore they are supporting the armed groups in Ras al-Ain against Kurdish militias," he says. The FSA, he says, wants the fighting to continue in Ras al-Ain to keep Turkish support coming.
"We kicked Kurdish militias out of our areas, but because the FSA do not supply us with ammunition we retreat," adds Mr Didigov.
Al-Nusra jihadists, however, are remaining neutral in this fight in Ras al-Ain. "They are wining hearts and minds by reopening bakeries and providing gas for people," Mr Didigov tells me.
The leader of al-Nusra in the area is a Kurd himself and Mr Didigov asked him why they are staying neutral. The leader said that they "need Kurds to help us to advance in Qamishli (north-east), which is dominated by Kurds."