Yemen kidnappers free Swiss teacher Sylvia Abrahat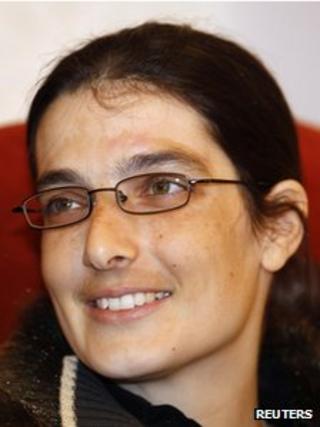 A Swiss teacher has been freed by her kidnappers in Yemen after nearly a year in captivity, following mediation by the Qatari government.
Sylvia Abrahat appeared to be in good health when she arrived on Wednesday night in the international airport of Qatar's capital, Doha.
Qatari and Swiss diplomats were at the airport to meet her.
Switzerland said it had paid no ransom for her release by gunmen in a region with a strong al-Qaeda presence.
"The Swiss government expresses its great gratitude to the state of Qatar for having led these negotiations so effectively,'' foreign ministry spokesman spokesman Pierre-Alain Eltschinger told AP news agency.
A Qatari deputy foreign minister, Ali bin Fahd al-Hajiri, told local media that a Qatari negotiating team had worked for months "silently and with wisdom and patience" to secure Ms Abrahat's release.
She was seized by gunmen on 14 March in Hodeida on the west coast of Yemen, where she worked as a teacher, but was later moved to Shabwa province.
Yemeni officials blamed the abduction on tribesmen demanding the release of jailed relatives but tribal elders accused al-Qaeda of being behind it.
The impoverished state became a major base for Islamist militants after the crackdown on al-Qaeda in Afghanistan and Pakistan.
In other cases involving Europeans, the authorities in Yemen are still trying to free two Finns and an Austrian snatched from the capital, Sanaa, late last year.