Two Palestinians held in Israeli jail end hunger strike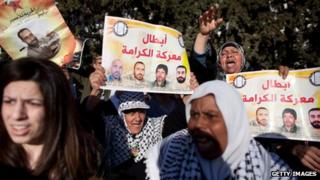 Two Palestinian held in an Israeli jail without trial have ended their hunger strike, Israeli officials said.
Tariq Qaadan and Jafar Ezzedine started taking food on Wednesday after a military court hearing.
Two others, Samer Issawi and Ayman Sharawna, are still on hunger strike and are being observed in hospital.
Palestinians have staged a series of protests to support the strikers. The UN and EU have recently expressed concern about their health.
They have also called for Israel to end its practice of administrative detention.
Under the system a military court can order suspects to be detained indefinitely, subject to renewal every six months, without trial or charge. The Israeli military says it uses administrative detention when it fears an immediate risk to security or to protect informants.
"It is an aggressive and primitive policy. Israel should stop this and respect international laws and ethical principles," says Qadura Fares, president of the Palestinian Prisoners' Club.
Continuing concerns
Mr Qaadan and Mr Ezzedin are under administrative detention orders that run until 21 May. Both began a hunger strike in November taking in only water and refusing food supplements. They were transferred to a hospital earlier this month.
Another hearing for their case is expected at Ofer military court on 6 March but their lawyer says they have been told their detention will not be extended further.
Mr Fares says that he remains "very worried" about Samer Issawi and Ayman Sharawna.
The men were released in October 2011 as part of a prisoner exchange deal that led to the freeing by Hamas of captured Israeli soldier Gilad Shalit. Both were later re-arrested by the Israeli authorities for allegedly violating the terms of their release. Israel has ordered they should serve out the remainder of their original sentences.
This prompted Mr Issawi to begin his hunger strike in August, but the BBC understands that at points he has broken off his protest for short periods. Mr Sharawna has been on hunger strike since July, except for a brief break in January.
According to Sivan Weitzman, a spokeswoman for the Israeli Prison Service, the two detainees are in "a stable condition" but are refusing medical treatment.
Calls for inquiry
There have been widespread demonstrations in the West Bank and Gaza Strip in recent weeks to show support for Palestinian prisoners who are widely seen as heroes of the national cause.
One man, Arafat Jaradat, died in disputed circumstances in an Israeli jail last weekend - just days after he was arrested following an angry protest in Hebron.
This led to riots and prompted some fears of a new Palestinian uprising against Israel.
On Wednesday, a UN human rights investigator called for an international inquiry into Mr Jaradat's death.
"The death of a prisoner during interrogation is always a cause for concern, but in this case, when Israel has shown a pattern and practice of prisoner abuse, the need for outside credible investigation is more urgent than ever," stated Richard Falk, UN special rapporteur for human rights in the Palestinian territories.
Mr Jaradat, 30, was accused of throwing stones at Israeli cars in the West Bank. Palestinian officials said there were signs he was tortured in jail before he died.
However, Israel said an autopsy carried out in the presence of a Palestinian coroner was not conclusive and that some injuries could have been caused by resuscitation attempts .