Bahrain police acquitted in protester death cases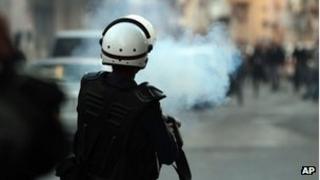 A court in Bahrain has acquitted two policemen charged in the shooting death of a protester.
The decision on Tuesday came just two days after a court confirmed the acquittal of two other policemen in the deaths of protesters in February 2011.
The rulings threaten to fuel more unrest in the kingdom, which is home to the US Navy's 5th Fleet.
Anti-government protests erupted across Bahrain two years ago, drawing a crackdown by security forces.
On 15 February 2011, Fadhil al Matrook was hit by birdshot at close range and died within minutes.
Mr Matrook was attending the funeral of a protester who had been shot the day before.
The Ministry of Interior said that police had come under attack from a hostile crowd and had fired warning shots in the air before firing the lethal blast.
Mr Matrook's family says he was hit while bending down to assist a mourner who had been overcome by tear gas.
An independent inquiry chaired by the Egyptian lawyer Cherif Bassiouni cited the death of Mr Matrook and noted "[it] can be attributed to the use of excessive force by police officers".
However the court of appeal rejected defence arguments that the officers should be found guilty of murdering Mr Matrook.
'Sad day for justice'
The court, presided over by a member of the ruling al Khalifa family, decided there was no intention to use lethal force.
Jalila al Sayed, a Bahraini human rights lawyer, described the verdict as "a very sad day for justice in Bahrain".
"The police claim self-defence but the evidence was crystal clear, he was shot in the back and the evidence presented by the police is not at all credible," she said.
The acquittals followed the death of two protesters and a police officer in a week of violence that flared earlier this month during demonstrations marking two years of anti-government protests.
Mahmood Aljazeeri, 20, died in hospital on Friday, seven days after being struck by a tear gas canister, according to a statement released by the opposition political society al Wefaq.
Another member of Mr Aljazeeri's family was shot and killed by police, and a police officer died after being attacked during protests marking the anniversary of the occupation of Pearl Roundabout in the capital, Manama, by pro-democracy activists.
On 14 February 2011, peaceful protesters took over an iconic Bahraini monument, Pearl Roundabout. Three days later security forces cleared the site using tear gas, batons and birdshot.
As violence escalated 35 people, including five police officers, were killed, hundreds more were hurt and thousands jailed in February and March 2011.
The vast majority were Shia Muslims in a country ruled by a minority Sunni royal family.
Since then, opposition and human rights activists say more than 50 people have died, a figure which the government disputes.