Israel repatriates six wounded Syrians after treatment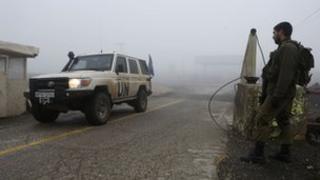 The Israeli military says it has repatriated six Syrians treated after being wounded during the uprising against Syria's president.
Seven Syrians had been allowed to cross into the occupied Golan Heights, receiving medical aid in Israel.
Israeli officials said one was still being treated for severe wounds.
The incident is believed to be the first time Syrians have sought Israeli help during their civil war.
The two countries regard each other as enemies.
A statement issued by the Israeli military said that the Syrians' repatriation "was completed at an undisclosed location for their own safety".
The military made no comment on why the six - whose identities have not been disclosed - were returned to Syria, where they could be in danger.
Israel has been in a state of war with Syria since 1948 when Syria and other Arab countries invaded the newly-declared state. Israel has occupied the Syrian Golan Heights since 1967 and later annexed the territory, in a move that is not internationally recognised.
Recently there has been fighting in the eastern foothills of the Golan Heights between Syrian President Bashar al-Assad's forces and rebels.
Israel has said its policy is not to get involved in the Syrian conflict. However, in recent months it has retaliated when there has been Syrian fire into Israeli-controlled areas.
Israel has reinforced a fence that runs along the armistice line on the Golan Heights and officials say Syrian refugees will not be allowed into Israel en masse.