Tunisia holds four over Chokri Belaid killing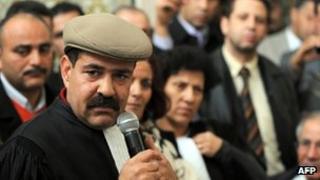 Four people suspected of involvement in the assassination of Tunisian opposition leader Chokri Belaid have been arrested, the PM-designate said.
Ali Larayedh, currently interior minister, also said the killer had been identified, but remained at large and was being hunted by police.
Chokri Belaid was shot dead outside his home in the capital Tunis last month.
A prominent secular opponent of the moderate Islamist-led government, his murder has sparked mass protests.
The political unrest led to the resignation of Prime Minister Hamadi Jebali, who is to be replaced by Mr Larayedh.
"The killer has been identified and is being chased," Mr Larayedh told a news conference.
"Four other suspects have been arrested. They belong to a radical religious group," he said, adding that one had confessed to accompanying the assassin on the day of the murder.
Mr Belaid's widow, Basma, welcomed news of the arrests but said she wanted to know "who ordered it... because this was a very well-organised crime".
Supporters of the secular opposition have blamed the ruling Ennahda party for Mr Belaid's assassination - an accusation the party denies.
It was the first political assassination in Tunisia since the popular unrest in 2011 forced the country's autocratic leader Zine al-Abidine Ben Ali from power and also inspired the so-called "Arab Spring" uprisings across the region.