Syria conflict: opposition coalition pulls out of talks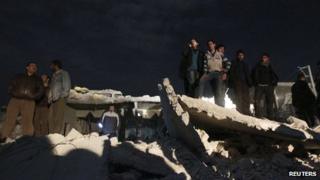 The main Syrian opposition alliance will not attend a series of meetings in protest at what it said was the international community's "shameful" failure to stop violence.
The National Coalition said it had decided not to attend a summit of the Friends of Syria in Rome next month.
It was also turning down invitations for talks in Washington and Moscow.
A statement singled out Russia for supporting and supplying weapons to President Bashar al-Assad.
"The international silence on the crimes committed every day against our people amounts to participating in two years of killings," the National Coalition said.
"The Russian leadership especially bears moral and political responsibility for supplying the regime with weapons," it added.
No compromise
The decision to boycott international diplomatic meetings in Syria effectively torpedoes the initiative launched by the National Coalition's leader Moaz al-Khatib, the BBC's Jim Muir in Beirut says.
Three weeks ago he announced that he was ready to meet Syrian government representatives to discuss an end to the violence.
The initiative was strongly backed by international powers, including Russia, and he was invited to Washington and Moscow. Now those visits will not take place.
The National Coalition will also boycott the Rome meeting of the mainly Western Friends of Syria group, which supports the opposition.
It is particularly enraged by the use of Russian-supplied Scud missiles to bombard rebel-held areas of Aleppo - Syria's second city.
"Hundreds of civilians have been killed by Scud missile strikes and Aleppo is being systematically destroyed," the National Coalition statement said.
The decision to pull out of talks has dismayed diplomats.
But opposition leaders are clearly worried that the coalition risks being discredited and losing touch with realities on the ground if it gets drawn into a diplomatic process involving compromise with a regime that shows no sign of readiness to step down, our correspondent adds.
In Syria on Saturday, the battle for control of Aleppo's international airport reportedly intensified.
The Syrian Observatory for Human Rights, a UK-based activist group, said the fighting between government forces and rebel fighters was focused on a section of motorway linking the airport to the city, which has been used by the military to transport troops and supplies.
The fighting comes a day after troops were accused of firing missiles into a rebel-held district in Aleppo's east, killing at least 31 people.
The UN special envoy to Syria, Lakhdar Brahimi, meanwhile described the car bomb attack on the ruling Baath Party's headquarters in Damascus on Thursday as a war crime. He said it left about 100 people dead.