Israel: Tzipi Livni joins Netanyahu's coalition government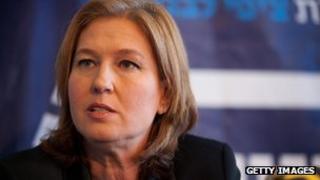 Former Israeli opposition leader Tzipi Livni has agreed to join a new coalition led by the Prime Minister, Benjamin Netanyahu.
Mrs Livni, head of the centrist Hatnua party, will be justice minister and chief negotiator with the Palestinians.
The party has promised to push for a two-state solution to the Israel-Palestinian conflict.
Mr Netanyahu is in discussion with other parties on joining his government, after winning elections.
Mrs Livni told Israeli Radio that Hatnua and Mr Netanyahu's Likud parties shared "a common goal" and that she had not betrayed her voters.
Hatnua (The Movement) won just six of 120 seats in the Knesset in the 22 January polls.
Mrs Livni has previously criticised Mr Netanyahu for his handling of the Palestinian issue, accusing his joint election grouping with the Yisrael Beitenu party of right-wing "extremism".
Speaking on Wednesday, Mrs Livni downplayed past disagreements, saying "we understand there was nothing personal" and said that she had spent hours in talks with Mr Netanyahu.
In earlier televised comments, the prime minister said the union with The Movement - the first official coalition agreement - would create a "broad and stable government that unites the people".
As foreign minister under former Prime Minister Ehud Olmert, Mrs Livni acted as the chief negotiator with the Palestinians. Although both sides later spoke positively of the progress made, the talks collapsed in late 2008.
'Policies, not names'
Palestinian officials gave a muted reaction to Ms Livni's new appointment. One PLO leader said it was not appropriate to comment on the appointment of a single Israeli minister.
"It's not about names, it's about policies," said Xavier Abu Eid, spokesman for the PLO Negotiations Unit.
"We want Israel to honour its obligations to respect international law, that's the only way to create the right environment for negotiations."
Under pressure from the US, there was a brief resumption of talks during Mr Netanyahu's last government. However these soon broke down in late 2010.
The Palestinians have refused to return to the negotiating table while there is an expansion of Jewish settlements in the West Bank and East Jerusalem. Settlements are considered illegal under international law, although Israel disputes this.
Israel says there should be no preconditions for talks.
US President Barack Obama is expected to visit Israeli and Palestinian leaders next month in an effort to revive peace efforts.
'Fig leaf'?
The chief political correspondent for the Jerusalem Post, Gil Hoffman, told the BBC that the tie-up between Mr Netanyahu and Mrs Livni was a "serious" effort to return to negotiations.
"Now Netanyahu shows his true colours by bringing in Livni. He's someone whose image around the world is far from the truth. This is real. Livni wouldn't join him if wasn't real," he said.
Other Israeli commentators are more cynical.
Writing in the newspaper, Yedioth Ahronot, Sima Kadmon predicts Mrs Livni "is going to become exactly what she announced she would not be, namely a fig leaf in Netanyahu's government".
Since last month's election Mr Netanyahu has struggled to form a coalition. His Likud-Yisrael Beitenu bloc has 31 Knesset seats, and he controls 37 with The Movement. However, this falls far short of the 61-seat majority he needs to form a government by mid-March.
Questions remain about how Mrs Livni's appointment will affect his two largest potential partners: the centrist Yesh Atid, which has 19 seats, and the pro-settler Jewish Home party, which has 12.