Prisoner X: Israel inquiry into Ben Zygier's death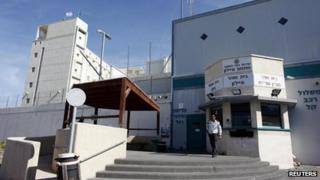 Israeli parliamentarians are to hold an intensive inquiry into the death of an Australian-Israeli believed to have had links to the security service Mossad.
The man known as Prisoner X - identified by Australian media as Ben Zygier - apparently hanged himself in a prison near Tel Aviv in 2010.
A parliamentary sub-committee on intelligence will look at "all aspects" of the death, a statement said.
Earlier, Israeli PM Benjamin Netanyahu defended the security services.
"I ask everyone: let the security services continue working quietly so that we can continue to live in safety and tranquillity in the State of Israel," Mr Netanyahu said at a cabinet meeting on Sunday.
"Overexposure of security and intelligence activities can damage, and damage badly, state security and that is why in every debate we must not underestimate the security interest."
Gagging order
Prisoner X was imprisoned under a false identity and in isolation at the high-security Ayalon prison.
The exact charges against him are not known but he is believed to have been accused of security offences.
The Australian broadcaster ABC reported that the man, Ben Zygier, was an Australian who immigrated to Israel in 2000 and worked for Mossad.
He had "disappeared" some months earlier, ABC said.
Zygier was 34 at the time of his death in December 2010. His body was flown back to his native city of Melbourne for burial.
Israel never acknowledged the prisoner's existence but issued a gagging order in 2010 to prevent details of the case being published.
Media gagging orders in Israel are rare and issued in special cases concerning national security.
It was only after three Israeli MPs used their parliamentary immunity to raise the issue in the Knesset (Israeli parliament) that the censor was forced to ease restrictions and permit coverage of the ABC findings.
In early 2010, officials in the United Arab Emirates accused Mossad of murdering a senior official from the militant Palestinian movement Hamas in Dubai, using a team travelling on false Australian and British passports.
The Australian foreign ministry is reviewing its handling of Mr Zygier's case.
On Sunday, Foreign Minister Bob Carr demanded that Israel provide information on Prisoner X for the report, which will look at all communications between Australia and Israel.
"We want to give them an opportunity to submit to us an explanation of how this tragic death came about," Mr Carr told reporters in the capital, Canberra.