Yemen: UN warns ex leaders of sanctions if they meddle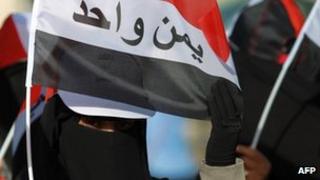 The UN Security Council has warned Yemen's former president and vice president that they could face sanctions if they continue to interfere in the country's democratic transition.
The Council named former President Ali Abdullah Saleh and his deputy Ali Salim al-Beidh, along with others. The statement also expressed concern about reports that money and weapons are being brought into Yemen.
The British ambassador to the UN said such meddling would not be tolerated.
"What [President Ali Abdullah Saleh] should not do is undermine the political transition, the national dialogue, which is fully supported by all the international community,'' Britain's UN Ambassador Mark Lyall Grant said.
"What we are saying is that we are giving our full weight behind that process, and we will not tolerate individuals of whatever stature undermining that process.''
'Rare success'
The statement was approved by all 15 council members.
The BBC's Barbara Plett, at the United Nations in New York, says that despite its troubles the Security Council regards Yemen as a rare success story in its track record on the Arab uprisings.
Our correspondent explains that pressure from the Council played a key role in stopping Yemen's sliding towards a civil war and getting the country's two main power blocks to agree on a political transition.
Under the deal, Mr Saleh had to step down in exchange for immunity and politicians formed a national unity government to prepare for elections due to be held in February 2014.
A dialogue process intending to draw in marginalised and excluded political groups is set to begin mid-March, but UN officials have warned that the process is very fragile and could still collapse.
The council statement also expressed concern about reports "of money and weapons being brought into Yemen from outside for the purpose of undermining the transition''.
Yemen has complained to the Council about a seized weapons shipment it says was sent by Iran whom it claims is supporting a southern separatist movement.
The ship, Yemen says, contained Iranian-made bomb-making material, suicide belts, explosives, rockets, surface-to-air missiles, grenades and ammunition.
Iran has strongly denied the charges, and the UN is investigating the claims.