Beitar Jerusalem FC strives to shed racist reputation
By Wyre Davies
BBC News, Jerusalem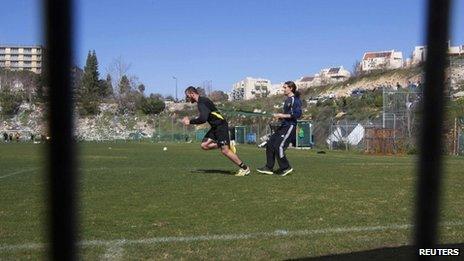 Like many clubs across Europe seeking to improve on what has thus far been a mediocre season, Beitar Jerusalem signed a couple of new players just before the end of the January transfer window.
But not everyone was happy to see the new signings at their first training session, when they were introduced to the fans.
Fans screamed abuse through the fencing as the two new boys - Zaur Sadaev and Gabriel Kadiev - went through their paces.
The pair from Chechnya are tall, athletic and the club hopes they will give Beitar the push it requires to reach the end of season play-offs in the Israeli First Division.
But the men are also observant Muslims - and Beitar Jerusalem has a long tradition of not signing Arab or Muslim players.
Perhaps because of where they come from - one can imagine that growing up and playing football in Grozny must have been an "education" in itself - the two footballers dealt well with the abuse, even when crazed fanatics screamed and spat as they tried to climb over the fence surrounding the training pitch.
At the club's first home game, after it was announced the two players were arriving in Jerusalem, the booing and racist chanting were impossible to ignore. A huge banner was unfurled at kick-off vowing "Beitar pure forever".
But for Beitar Jerusalem's management and players it was an embarrassment. At a time when they are actively trying to attract investors and sponsors, the "welcome" given by a minority of fans was completely counter-productive.
Riffat, or "Jimmy", Turk is a footballing legend in Israel and has a cabinet full of trophies to prove it.
An Israeli Arab from Jaffa who played more than 30 times for Israel in the 70s and 80s, he too suffered racist abuse on and off the pitch. He told me most clubs have changed, and nearly all of the top sides regularly feature Arab players, except for Beitar.
"For most teams it's a pure footballing decision - whether an Arab player is good enough or not to play for them. But at Beitar, they seem to take pride in their reputation as the most racist club in Israel," Jimmy told me as we sat in the garden of his Jaffa home discussing what has become a hot topic in Israeli sport and politics.
Subsequent training sessions at Beitar have not been as volatile or as emotionally charged as the first one attended by the two Chechens but they still get personal security guards to accompany them to and from the ground.
In the wake of recent events the club's manager and owners have taken positive, affirmative action.
Ringleaders from the notorious "La Famila" group of fans have been banned from home matches, a handful of others have been arrested and charged with insulting and racist behaviour.
But the determination of a small, determined group of fans shocked everyone connected with the club last weekend.
Beitar's modest offices, next to the training ground in the heart of Jerusalem were badly damaged in a fire.
What is thought to have been an act of arson destroyed trophies, footballing memorabilia and caused thousands of dollars worth of damage.
Beitar Jerusalem is traditionally seen as the club of Israel's political right wing.
Many politicians, past and present, from the conservative Likud party are lifelong fans.
Ehud Olmert, a former Israeli prime minister, and the incumbent leader, Benjamin Netanyahu, expressed their outrage at the attack and the openly racist behaviour of a minority of fans.
Another prominent fan is the former Speaker of the Israeli Parliament, Avraham Burg.
"Jerusalem in the last couple of weeks became a place in which being a supporter or a fan of good old soccer became an embarrassing reality," he told the BBC outside a recent home game where he was part of a concerted campaign to show that most Beitar fans want to change the club's image, albeit belatedly.
For the club it is as much about economics as it is politics.
Several potential buyers or investors have shied away from Beitar because of its reputation.
Even though it is one of the most successful clubs in recent years, on the pitch at least, the club's General Manager, Itzik Kornfein, admitted they were fighting an uphill battle. He is determined to change the philosophy.
"We are not going to give up because of what happened in [the] past few days with the loud minority," Mr Kornfein told me at the training facilities, which are far too inadequate and underfunded for a club of Beitar's size.
"We are going to go through it and we are going to support our new players. We are still going to be a football club that chooses players because they are football club players and not because of their religion."
At Beitar Jerusalem's last home game against the mixed Arab-Jewish side, Bnei Sakhnin, security was tight and measures were taken to ensure that offensive and racist banners were not allowed into the "Teddy" Stadium.
Nonetheless there were still mixed views among fans at the game.
One fan who gave her name as Linoy was unrepentant.
"This is Jewish land so we shouldn't have any Arab players or Muslim players on the teams," she said. "They have Muslim players on all the other teams and that is good enough."
But another fan interviewed by the BBC said: "The real fans of this club are not racist and they don't accept the kind of violence and incitement that's gotten out of control."
The majority of supporters who we spoke to echoed those comments, indeed many suggested it was time for the police to move against the offenders.
Beitar Jerusalem clearly has a reputation for racism that no longer fits in with the global, or for that matter the wider Israeli, view of football as an inclusive game for all.
The club's reputation, while a source of perverse pride for a vocal minority, is one the vast majority of Beitar's fans want to lose.
Related Internet Links
The BBC is not responsible for the content of external sites.