Syria crisis: Qatar handing embassy over to opposition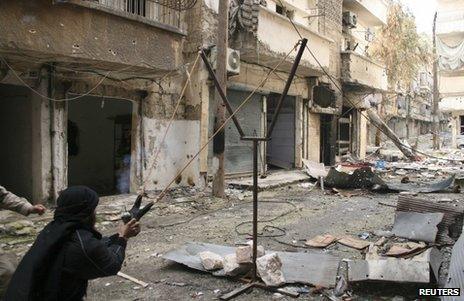 Qatar is to hand over the Syrian embassy in its capital, Doha, to Syria's main opposition group.
The news was announced by the Syrian National Coalition (SNC), which has already appointed an ambassador.
Qatar was among the first states to recognise the SNC as the official representative of the Syrian people.
Meanwhile, Syria's former foreign ministry spokesman has told the BBC he abandoned the regime because his hopes for reform had been dashed.
Jihad Makdissi, who disappeared from Damascus in early December, told BBC Arabic he left Syria quietly to be independent and support what he called "the peaceful change that's based on national dialogue and partnership away from hatred, extremism and foreign military intervention".
Mr Makdissi had been one of the main public faces of the regime, outlining its position in many news conferences.
His whereabouts remain unknown, though in a statement to the BBC he said he was not in Europe or the US but with "brothers" who were supporting the Syrian people without discrimination.
Mr Makdissi said he left in the way he did because he did not want to be used as a "dagger" by one side against the other.
According to the SNC, the opposition flag will fly over the embassy in Doha, and the new ambassador and two of his staff will be accorded full diplomatic status.
The SNC has appointed ambassadors to other states which have recognised it, including the UK and France, but Qatar is the first to hand over an embassy, the BBC's Jim Muir reports from Beirut.
Clearly, the coalition hopes others will follow suit, our correspondent adds.
UN human rights chief Navi Pillay meanwhile has said the death toll in Syria had reached nearly 70,000 since the uprising began in March 2011.
At the start of this year Ms Pillay had estimated a death toll of at least 60,000.
Speaking at a UN Security Council debate in New York on Tuesday, Ms Pillay called on the Council to refer the situation in Syria to the International Criminal Court.
"The lack of consensus on Syria and the resulting inaction has been disastrous and civilians on all sides have paid the price," she said.
"We will be judged against the tragedy that has unfolded before our eyes."
On Wednesday, Russia confirmed it is still supplying arms to Syria's government. However, Anatoly Isaikin, the head of the state arms exporter, Rosoboronexport, said the supplies did not include attack weapons such as planes or helicopters.
Mr Isaikin said Russia's contracted defence shipments to Syria would continue "in the absence of sanctions".
"But these aren't offensive weapons," he stressed. "We are mostly shipping air defence systems and repair equipment intended for various branches of the military."
Russia, together with China, has opposed moves at the UN to place sanctions on President Bashar al-Assad's government.