Israel's mystery Prisoner X 'was Australian Ben Zygier'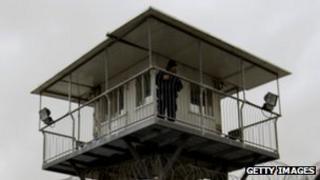 A mystery prisoner reported to have hanged himself in 2010 in an Israeli jail where he was being secretly held was an Australian national, an Australian news programme has reported.
ABC News identified the man, known in the media as Prisoner X, as Ben Zygier.
The report said there was evidence to suggest Mr Zygier worked for Israel's spy agency Mossad.
Speculation about the prisoner, whose case was not officially acknowledged, had been rife since the story emerged.
The Israeli prime minister's office called an emergency meeting of Israeli media chiefs after the ABC story was published on Tuesday, urging them not to publish "information pertaining to an incident that is very embarrassing to a certain government agency", Israel's Haaretz newspaper website reported.
An article about the Australian report which appeared in Haaretz on Tuesday was later removed.
Israel has not officially commented on the ABC report.
'Held incommunicado'
According to ABC's Foreign Correspondent programme, Ben Zygier was found hanged in a cell in late 2010, months after he was imprisoned, and his body flown to Melbourne for burial the following week.
When the story about Prisoner X first emerged, Israeli media said the unidentified man was being held in isolation at Ayalon high-security prison in Ramle, central Israel.
It said the prisoner was held incommunicado, receiving no visitors and without any contact with the outside world.
ABC said he was incarcerated in a wing built to house Yigal Amir, the Israeli who assassinated Prime Minister Yitzhak Rabin in 1995. It said his cell was fitted with surveillance cameras designed to prevent incidents such as suicide.
The reason for his detention was not disclosed and his identification was so secret that even his guards did not know who he was, the programme said.
Israel never acknowledged the prisoner's existence but issued a gagging order in 2010 to prevent details of the case being published.
Media gagging orders in Israel are rare and issued in special cases concerning national security.
'Mossad recruit'
ABC said Mr Zygier was from Melbourne and went by the name of Ben Alon in Israel.
The programme said he had moved to Israel 10 years before his death. It said that at the time he died he was 34 years old, married to an Israeli woman and had two children.
It said it had reason to believe Mr Zygier had been recruited by Mossad.
Australian Foreign Minister Bob Carr said he was troubled by the investigation's findings.
Mr Carr told the programme Australian diplomats in Israel only knew of Mr Zygier's detention after his death. He said Mr Zygier's family had not made a complaint, in the absence of which there was little the Australian government could do.