Iran opposition leader Mousavi's daughters arrested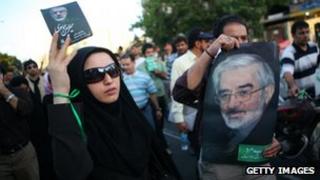 Two daughters of Iranian opposition leader Mir Hossein Mousavi have been arrested after security forces raided their homes in the capital, Tehran.
It comes almost two years after their parents were put under house arrest.
Mr Mousavi, a leader of the Green Movement, lost to Mahmoud Ahmadinejad in the 2009 presidential election.
The controversial results triggered mass protests, which were quashed in a brutal crackdown resulting in the deaths of dozens of people.
Opposition sources say agents searched the houses for hours and arrested the two women, Zahra and Narges, after finding relatives to take care of their children.
The Green Movement claimed that the 2009 presidential election was stolen from their candidate and thousands of its supporters took to the streets of Tehran and other cities a day after the polls.
The opposition says more than 80 of its supporters were killed over the following six months, a figure the government disputes. Several have been sentenced to death, and dozens jailed.
Mr Mousavi and his wife, Zahra Rahnavard, were placed under house arrest on 14 February in what Mr Mousavi's website said was aimed at preventing him from attending a march.
The couple are unable to communicate directly with the outside world and have to pass messages via their daughters, which have appeared on pro-reformist websites.
Iran is due to hold new presidential elections in June to find a successor to Mr Ahmadinejad.