Israel football club Beitar Jerusalem office torched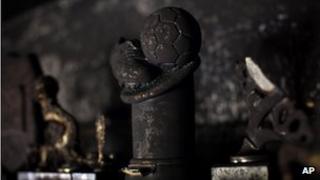 The offices of Israeli football club Beitar Jerusalem have been damaged by fire in a suspected arson attack.
The blaze came a day after four fans were charged over racist chanting against the club's recruitment of Muslim players.
No-one was hurt in the blaze but the club's administrative offices suffered extensive damage, police said.
Last month Beitar Jerusalem signed two Chechen players, breaking a tradition of not signing Arabs or Muslims.
'Shameful'
The signing of Zaur Sadaev and Gabriel Kadiev - both Muslims - prompted some fans to make racist chants and display anti-Muslim banners at a league match.
Israeli Prime Minister Benjamin Netanyahu condemned the apparent arson attack as "shameful".
"We must not accept such racist behaviour," he said.
"The Jewish People, which has suffered boycotts and persecution, should be a light unto other nations".
Jerusalem mayor Nir Barakat said those responsible were "not fans but criminals".
Israeli police have promised to use all means at their disposal - including the use of undercover officers - to tackle racism at the Premier League club.
Beitar Jerusalem were the only leading club in Israel never to have signed Arab players because of pressure from fans.
Arab footballers feature prominently in other top teams and have long been included in the Israeli national side.