Obama to make first visit to Israel as president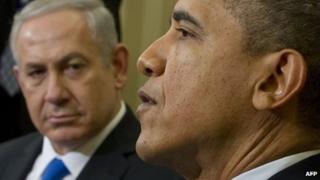 US President Barack Obama will visit Israel, the West Bank and Jordan in the spring, the White House has said.
It will be Mr Obama's first trip to those parts of the region as president.
The visit was discussed by phone with Prime Minister Benjamin Netanyahu in January, when Mr Obama congratulated the Israeli leader on his re-election.
The White House has not released details of the tour, but Israeli network Channel 10 said it had been scheduled for 20 March.
"The start of the president's second term and the formation of a new Israeli government offer the opportunity to reaffirm the deep and enduring bonds between the United States and Israel," said National Security Council spokesman Tommy Vietor.
Repairing relationship
He added the trip marked an opportunity "to discuss the way forward on a broad range of issues of mutual concern, including Iran and Syria".
White House press secretary Jay Carney also said Mr Obama would work closely with officials from the Palestinian Authority and Jordan on regional issues.
Mr Obama's last visit to Israel and Jordan was in 2008 as a presidential candidate. He has been criticised by some pro-Israel groups for not returning sooner.
Correspondents say the trip could help allay concerns he is cool towards America's closest ally in the Middle East.
Mr Obama's decision not to visit Israel when he stopped in Egypt early in his first term disappointed many Israelis.
The Democratic president is known to have had a fractious relationship with Mr Netanyahu.
The Israeli prime minister emerged from his country's elections weakened, but could still retain power if he can form a coalition government before the deadline in mid-March.