Egypt police beating: The strange case of Hamada Saber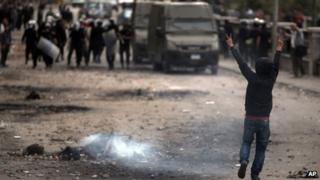 When video emerged of police beating a naked man in the street close to protests on Friday night, it looked like another case of brutality likely to provoke further anger against the security forces.
But the case of Hamada Saber has many strange twists and turns.
In the footage, Mr Saber, a middle-aged, working-class man, can be seen lying on the tarmac with his trousers around his ankles close to the presidential palace.
He is surrounded by a group of half a dozen officers clad in black riot gear and wielding batons. They hit him, remove his clothes, and drag him into an armoured vehicle.
The images were shown repeatedly on Egyptian and international media and went viral on social media.
While official sources initially suggested that Mr Saber was carrying petrol bombs or firing a gun, the interior ministry promised an investigation. On Saturday, its spokesman told the state news agency the incident was "regrettable and unacceptable".
"The ministry is keen to admit its mistakes, an approach that confirms a change in its strategy," he said.
Meanwhile, the president's office said it was "pained by the shocking footage of some policemen treating a protester in a manner that does not accord with human dignity and human rights".
Yet it also insisted this was "an isolated act".
'Mistaken for policeman'
The story then got more complicated as Mr Saber appeared on state television from a police hospital where he was being treated for buckshot wounds.
He described how he had been drinking a soda and watching the scenes when protesters surrounded him.
He suggested they shot him after mistaking him for a riot police officer because of his dark clothes, adding: "They didn't leave me any money and took my clothes."
Mr Saber admitted he was "afraid" when he saw the security forces chasing him but says: "When I fell, they caught me and said: 'You gave us a hard time.'"
The next twist came when his relatives gave a series of interviews contradicting this version of events.
A younger generation of relatives sought to explain away his strange and sometimes illogical statements.
"He's afraid, he's in hospital and everyone around him tells him what to say," Mr Saber's daughter, Ranya, told private Egyptian channel CBC. "They [the police] hit him, you saw what happened."
"He's a coward," added her angry cousin, Ashraf.
In the most surreal exchange, speaking to the Egyptian television host Amr Adeeb, Ranya and her father argued over the telephone about their different accounts.
Mr Saber accused his daughter of lying and called her "daughter of a shoe", a colourful Egyptian insult.
Yet by Sunday, Mr Saber seemed desperate to rescue his reputation. After being moved to a public hospital he gave a live telephone interview to the satellite channel al-Hayat, in which he changed his story.
"Police are the ones who beat me," he told presenter, Sharif Amr. "By the time I reached the armoured car, they had undressed me [including] my trousers and were still dragging me."
He swore when asked whether he had accepted any form of payment for interviews.
'Test case'
On Friday, one man was killed in protests and another has since died of his injuries. Hundreds are reported to have been hurt in running battles between police and demonstrators.
Those clashes followed eight days of unrest that saw dozens of Egyptians killed.
However, the humiliating images of Hamada Saber have dominated recent news headlines.
Many analysts make comparisons to the pictures of a woman beaten by military police in Tahrir Square over a year ago. She had her conservative black veil torn off to reveal her naked torso and blue bra.
Her harsh treatment led to renewed demonstrations against the military, which then ruled Egypt.
Questions remain about exactly what happened to Mr Saber.
However, his case drew public attention to how the Egyptian uprising has only partly changed the authorities' traditional patterns of response to such crises and the lack of police reform.
"I do think this was a test case to see how government agencies respond and there you don't see a fundamental change ultimately," says Heba Morayef, the Egypt researcher with Human Rights Watch.
"Within the police service there has been no structural reform and no accountability. There's been no creation of a deterrent through prosecutions so they would at least have that in the backs of their minds."
Television host Sharif Amr believes this example of police abuse was another "turning point".
"I think the mainstream wasn't really behind the demonstrations [on Friday] because people were fed up, but those shots turned everyone against the police and the government," he says.
"There was an impact because it showed the police haven't changed. This is exactly what Mubarak's police used to do. It was really appalling."