Iran seeks 'authentic' bilateral US nuclear talks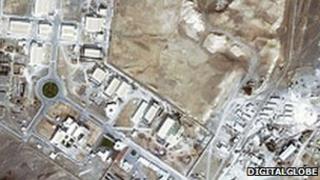 Iran says it welcomes a US offer of bilateral nuclear talks, but wants the US to show an "authentic... fair and real intention to resolve the issue".
Foreign Minister Ali Akhbar Salehi said the US should stop threats to take action against Iran as it offers talks.
He was speaking at a security conference in Germany a day after Vice-President Joe Biden told the gathering Iran had to be "serious" on the issue.
International talks on Iran's nuclear programme are due later this month.
Iran is under an array of UN-imposed sanctions. Western countries suspect it wants to develop nuclear weapons, but Tehran says its nuclear programme is for energy generation and research.
Three days ago, the US warned Iran that its plans to upgrade uranium enrichment centrifuges at the Natanz plant would be a "further escalation" of the stand-off.
No exercise
Mr Biden told the Munich Security Conference that Washington was prepared to hold bilateral talks with Iran "when the Iranian leadership, Supreme Leader [Ayatollah Ali Khamenei], is serious".
"That offer stands, but it must be real and tangible and there has to be an agenda that they are prepared to speak to. We are not just prepared to do it for the exercise."
Responding on Sunday, Mr Salehi said Iran had no "red lines" - that it had negotiated with the US bilaterally in Baghdad "a number of times".
"But we have to make sure ... that the other side comes with authentic intentions with a fair and real intention to resolve the issue," he said.
The minister said Iran would take the offer into "serious consideration", but the US had to desist from the "threatening rhetoric that everything is on the table".
Mr Salehi also described as "good news" that international talks on Iran were to be held in Kazakhstan on 25 February. He did not confirm if Iran would attend.
The five permanent members of the UN Security Council plus Germany have held a series of negotiations over the years - but there has been no breakthrough.