Benjamin Netanyahu asked to form Israeli government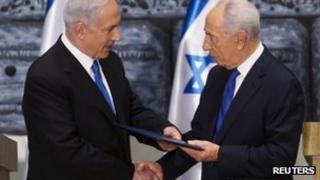 Israeli President Shimon Peres has asked Prime Minister Benjamin Netanyahu to form a new government following last month's parliamentary election.
Mr Netanyahu, whose Likud-Beitenu alliance does not have a majority, has said he wants a broad coalition.
He also called on the Palestinians to return to peace talks.
Correspondents says Mr Netanyahu's likeliest allies are other right-wing and religious groups, although he may also need the support of centrists.
In the 22 January elections, Likud-Beitenu won 31 of the 120 seats in the Knesset.
The nationalist group Habayit Hayehudi (Jewish Home) got 12, but the new centrist party Yesh Atid (There is a Future) came second with 19 seats.
Mr Netanyahu on Saturday reaffirmed that he was seeking the "largest government possible" and that his priority would be to "prevent Iran from obtaining nuclear arms".
He also called on Palestinian leader Mahmoud Abbas "to come back to the negotiating table". Peace talks have been stalled over construction in the West Bank and east Jerusalem.
Formal coalition talks are due to begin on Sunday.
Mr Netanyahu has six weeks to form a coalition government, with an extra two weeks if needed.
The 63-year-old prime minister has been in office since the 2009 election. He also served one term as PM between 1996 and 1999.