Iraqi Sunni Fallujah funerals draw thousands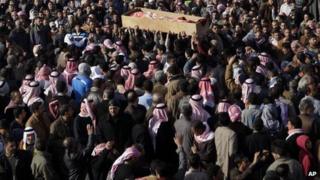 Thousands of mourners gathered in the Iraqi city of Fallujah on Saturday at the funerals of Sunni protesters killed by army troops a day earlier.
The funeral processions were followed by renewed protests against Iraq's Shia-led government.
On Friday, five people were shot dead and dozens more were wounded when the army opened fire on a protest.
Iraqi Sunnis, who held power under Saddam Hussein, accuse the government of discriminating against them.
Reporters in Fallujah reported seeing portraits of the former Iraqi leader held by mourners, and at least one coffin was draped in the Iraqi flag flown before the US invasion in 2003.
The army had withdrawn from the city for the funerals, fearing further violence.
But in an apparent revenge attack, gunmen killed two soldiers and abducted three more on the outskirts of the city.
Sectarian fears
Sunni leaders in Anbar province, where Fallujah is located, had earlier told the BBC that they would attack army positions in the province if the government failed to bring the soldiers responsible for the protester shootings "to justice".
Protesters are calling for anti-terrorism laws and other measures to be removed, saying they disproportionately target Sunnis.
The recent violence has raised fears of Iraq returning to the sectarian warfare that characterised the period following the US invasion.
Protests against the government, which is led by Shia Prime Minister Nouri Maliki, have been taking place for the last five weeks, but Friday's shootings marked the first confrontation with the army.
The defence ministry has promised an investigation into the shootings, but Mr Maliki said that soldiers had been attacked first, and warned that terrorist groups were trying to exploit sectarian tensions.
Meanwhile in the capital, Baghdad, Kurdish, Sunni and Shia political parties voted to approve legislation limiting the terms that prime ministers can serve - a measure aimed at Mr Maliki who has been in office since 2005.
Supporters of the prime minister dismissed the move as unconstitutional, however.