Iran's nuclear ambitions stalk presidential election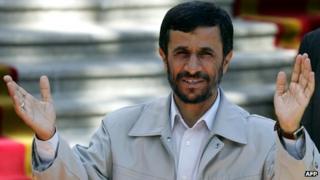 In six months' time Iranians will go to the polls to elect a new president.
Although the campaign does not officially start until March, there has already been much speculation about who will be competing in the race to succeed Mahmoud Ahmadinejad.
After a year dominated by infighting between supporters and opponents of Mr Ahmadinejad, the Supreme Leader, Ayatollah Ali Khamenei, has warned politicians not to engage in early electioneering.
Despite this, names are beginning to emerge, and parties and factions have quietly started lobbying for their preferred candidate.
Intriguingly, many of the potential contenders so far have one thing in common - they have been involved in the international negotiations over Iran's nuclear programme.
Hassan Rohani, who was the country's chief nuclear negotiator from 2003 to 2005, is the latest politician to tacitly acknowledge that he is intending to stand.
He hit the headlines last year when he published an outspoken memoir about his time as nuclear negotiator, which detailed clashes with President Ahmadinejad and eventually forced Mr Rohani to resign.
Claiming to appeal to both conservative and reform-minded voters, Mr Rohani told reporters in early January that it was time for a "new tone" in Iranian nuclear policy and that President Ahmadinejad had been too "confrontational".
Speculation
Ali Larijani, the current speaker of parliament, is another possible candidate with a nuclear past.
In 2005, he succeeded Mr Rohani as Iran's nuclear negotiator, but his moderate and pragmatic stand also put him at odds with the president and he resigned after two years.
Now the conservative faction in the Iranian parliament - which controls almost two-thirds of the seats - has given him its backing.
Another name in the hat is Saeed Jalili, Iran's current chief nuclear envoy.
A tough negotiator who lost a leg during the Iran-Iraq war, Mr Jalili is keeping silent about his intentions.
But there has already been a high-profile and well-organised campaign running in the Iranian blogosphere to support his candidacy, and some members of the influential conservative Islamic Stability Front have gone public to back him.
And lastly there is Ali Akbar Salehi, the current foreign minister and former head of the Atomic Energy Organization of Iran (AEOI).
Mr Salehi has so far declined to confirm whether he will be standing for the presidency, but his elusive answers when questioned at news conferences have fuelled speculation that his name will also be in the running.
Inner circle
So why is there such a buzz around these "nuclear candidates"?
Clearly one issue is their relationship with the man who has the final say on Iran's nuclear policy, Ayatollah Khamenei.
Observers say that being a member of the nuclear policy-makers' club is seen as a badge of honour in Iranian politics because the supreme leader only lets the most trusted people into this inner circle.
For all of the names currently in the running, involvement in the nuclear talks has resulted in a high-speed train ride to the very top of Iranian politics.
For Mr Salehi, a stint as Iran's representative to the International Atomic Energy Agency (IAEA) was a fast-track to being appointed foreign minister in 2011.
Mr Larijani went from head of the state broadcaster, Voice and Vision of the Islamic Republic of Iran (VVIRI), to speaker of parliament after his two years as nuclear negotiator.
But while they may have Ayatollah Khamenei to thank for their current high-profile roles, it is not clear how popular any of these men really are with ordinary voters.
Mr Larijani, who has the most solid profile among them all, tried his luck in the presidential election in 2005, but only won 4% of the vote.
Iran watchers say that the emergence of the "nuclear candidates" also indicates just how crucial the nuclear issue has now become at all levels of Iranian political life.
For the conservative politicians who came to power after the last presidential election in 2009, the ongoing confrontation with the West over Iran's nuclear ambitions is becoming so serious they fear it could threaten the very existence of the Islamic Republic.
For the Revolutionary Guards and the business world, while sanctions may have offered the chance to monopolise the economy in the short term, there is a growing awareness that as the economy shrinks, so will their share of the profits.
Earlier this month, one MP confirmed what many had suspected when he announced that Iran's oil sales had fallen 40% and its income has dropped 45% over the last nine months.
Growing impatience
But most important of all is the stance of the supreme leader.
US President Barack Obama has warned that the window of diplomacy is "shrinking" and Ayatollah Khamenei knows that if he does not negotiate him, there is no guarantee the next interlocutor will be someone with the same degree of patience and persistence.
Ayatollah Khamenei has made no secret of his growing impatience with the tensions between President Ahmadinejad and other officials over the nuclear issue.
It is clear he would welcome a new president who could try to build consensus on the issue and get everyone working in the same direction.
Given the complexities of Iranian politics, observers caution that even if one of the "nuclear candidates" is elected president, there are unlikely to be big changes in the short term.
But it would send an important message to people inside Iran and in the West that solving the nuclear issue is now a top priority for the supreme leader and that Iran is keen to solve the deadlock while there is still time.