Bahrain's justice system under scrutiny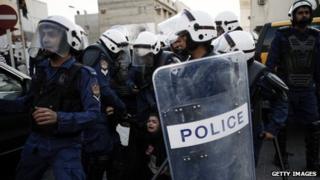 The decision by a court in Bahrain to reduce the prison sentence given to a man who died four months ago has drawn attention to the country's justice system, which critics say is profoundly unfair and heavily politicised, reports the BBC's Bill Law.
Mohammed Ali Ahmed Mushaima was among the hundreds of Bahrainis arrested as pro-democracy protests erupted in the Gulf island kingdom in February 2011.
The following month, he was sentenced to seven years in prison by a military court, which found him guilty of public disorder and obstruction.
In late August 2012, Mushaima was admitted to the Salmaniya Medical Complex (SMC) after suffering complications from sickle-cell anaemia.
His death in early October sparked outrage, with thousands attending his funeral and opposition activists alleging that the authorities had denied him proper medical treatment - something they denied.
Then, in a bizarre twist, Mushaima's prison sentence was surprisingly reduced to three years by a civilian appeal court earlier this month.
His former lawyer, Mohsen al-Alawi, told the BBC that even though he told the court that his client had died in October 2012, the case continued.
"The charges were made against a group of defendants, and despite the fact that every time my client's name was called in court I answered that he was dead, the court was not interested and treated all of the cases as one case."
Mr Alawi also said the court had ignored evidence proving that Mushaima had been in hospital receiving treatment at the time of his alleged crime in 2011.
'Justice not done'
Bahrain's judicial system was heavily criticised by the Egyptian lawyer Cherif Bassiouni, who chaired the Bahrain Independent Commission of Inquiry (BICI), which published a groundbreaking report on human rights abuses during the 2011 uprising.
The report was commissioned by King Hamad bin Isa al-Khalifa who accepted its findings, including those regarding the use of torture by police, in November 2011.
In December 2012, Mr Bassiouni told Human Rights Watch (HRW): "A number of recommendations on accountability were either not implemented or implemented only half-heartedly."
He was particularly critical of the decision of Bahrain's highest court, the Court of Cassation, to allow evidence to stand despite credible allegations of torture. He cited one case where the court declared the defendant's confession admissible because it was made several days after the torture occurred.
"I cannot think of a more egregious and specious legal opinion - admitting that the torture occurred but ruling the confession admissible and allowing the conviction to stand," Mr Bassiouni said.
He added: "You can't say that justice has been done when calling for Bahrain to be a republic gets you a life sentence and the officer who repeatedly fired on an unarmed man at close range only gets seven years."
The case to which Mr Bassiouni was referring involved a police officer who shot dead a protester. He was subsequently convicted of manslaughter and was sentenced to seven years in jail.
Two other police officers were convicted of beating to death businessman Karim Fakhawri while in custody. They too received seven-year prison sentences, but are currently free while their appeals are heard.
Thirteen opposition leaders and human rights activists have, however, been sentenced to between five years and life in prison on evidence widely accepted as being obtained under torture. They were convicted of plotting to overthrow the government.
Last week, the main opposition group, al-Wifaq, denounced "the politicisation and exploitation of the judiciary by regime officials".
Al-Wifaq was angered by the rejection of an appeal from two men convicted of murdering a policeman in March 2011, one of whom was sentenced to death and the other to life in prison.
The contrast between the treatment of anti-government protesters and the police officers could not, al-Wifaq argued, be more stark.
'Extracted under duress'
Jalila al-Sayed, a human rights lawyer in Manama, says that there are "two sets of justice - one for the police and one for the protesters."
Ms Sayed cites the case of one of her clients, Mahdi Abu Deib, the head of Bahrain's teachers' union.
In September 2011, he was sentenced to 10 years in jail by a military court for "calling to forcefully overthrow the regime in union statements". The conviction was based largely on the strength of a confession allegedly extracted under duress, Ms Sayed says.
She adds that Mr Abu Deib was critically injured at the time of his arrest because he was pushed by police officers off the roof of his house.
Mr Abu Deib testified about his mistreatment to the BICI.
But Ms Sayed says his case had never been investigated, and that no charges had been brought against the arresting officers, or those she alleges abused him in detention.
"There is a double standard, absolutely there is, in how the cases are handled," she adds.
Princess charged
The authorities continue to insist that those responsible for human rights abuses are being brought to justice.
Indeed, when the Justice Minister, Sheikh Khaled bin Ali al-Khalifa, was asked by the BBC last year how high the investigations would go he replied: "As high as necessary."
Princess Noura bint Ebrahim al-Khalifa, a member of the ruling family who serves in the police force's Drugs Control Unit, is accused along with another officer of torturing three people in detention in 2011.
The 29 year old, who denies the charges, appeared in court on two successive days last week to hear the allegations.
In one case, the princess is accused of torturing two doctors, Ghassan and Bassem Daif, brothers who worked at the Salmaniya Medical Complex.
Staff at the facility went to help injured protesters after security police used force to disperse thousands of people who had camped out at the iconic former Pearl Roundabout in Manama in February 2011.
In March and April 2011, many of the medical staff were arrested and detained. It is alleged that Princess Noura tortured the doctors at that time.
She is also accused of torturing another person, 21-year-old student Ayat al-Qurmazi.
Ms Qurmazi was arrested in March 2011 after giving public readings of poetry she wrote that was critical of the ruling family.
She alleges she was held for nine days, blindfolded, beaten with cables and threatened with rape. She has identified the princess as her torturer.
Ms Qurmazi's lawyer, Reem Khalaf, told the BBC that on one occasion while she was being beaten around her head, the blindfold slipped and she saw the princess.
"Noura was very angry that Ayat had seen her," Ms Khalaf said.
Ms Qurmazi told the BBC that she did not regret reading her poems or taking Princess Noura to court, even though she had lost her place at college and was the target of online threats and abuse.
"I am not sorry. I only said what all Bahrainis feel and I haven't done anything against my country. What I am doing, I am doing for my country," she said.
Her case was adjourned to 7 February after three witnesses failed to turn up.
No-one from the government was available to comment on the charges against Ms al-Khalifa.
Under suspicion
With tensions continuing between the opposition and the government, the Bahrain judiciary continues to be suspected of being neither independent or balanced.
Sir Nigel Rodley was a member of Cherif Bassiouni's team investigating human rights abuses in Bahrain.
A former United Nations Special Rapporteur on Torture, he told the BBC: "I agree with Cherif that the system as a whole finds dissent more dangerous than official criminality, and I see no sign that that they have moved away from that position."
And as long as that position remains entrenched, and as long as the judicial system remains under a cloud, it is hard to see any early end to the anger and distrust that is standing in the way of reconciliation.