Palestinians threaten to sue Israel over settlements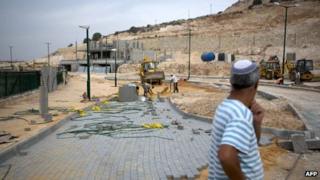 The Palestinians have threatened to pursue Israel at the International Criminal Court (ICC) if it builds new Jewish settlements east of Jerusalem.
Speaking at the UN Security Council, Palestinian Foreign Minister Riad Malki said the decision depended on the new Israeli government.
The Palestinians became eligible to join the ICC after the UN voted to upgrade their status last November.
Israel has announced plans to build 1,500 more homes in East Jerusalem.
The controversial project was revived as part of Israel's response to the UN General Assembly's decision to grant the Palestinians the status of non-member observer state.
'No other choice'
Mr Malki's speech on Wednesday was the first Palestinian address to the Security Council since its status upgrade.
The Palestinian minister spoke about Israeli plans to construct housing in an area known as E1, which cuts deep into the West Bank, the BBC's Barbara Plett reports from the UN.
Bringing Jewish settlers into this zone would be crossing a red line, Mr al Malki said, forcing the Palestinians to complain to the ICC.
"If Israel would like to go further by implementing the E1 plan and the other related plans around Jerusalem, then yes, we would be going to the International Criminal Court," he told the UN Security Council.
"We would have no other choice. It depends on the Israeli decision. Israel knows very well our position."
Palestinian officials have previously suggested that bringing their disputes with Israel to the ICC was an option, but this appears to be an unusually direct threat, our correspondent says.
Mr Malki made his address while seated behind a name plate that read 'State of Palestine'.
US ambassador Susan Rice emphasised that UN references to the State of Palestine, such as the title on the Security Council name plate, was not "bestowing Palestinian 'statehood' or recognition".
"Only direct negotiations to settle final status issues will lead to this outcome," Ms Rice said.
Meanwhile the UN Middle East envoy Robert Serry told the Security Council that Jewish settlements were contrary to international law and increasingly an obstacle to peace, our correspondent says.
But he also warned the Palestinians against taking any steps in international forums that would make a return to peace talks more difficult.
The last round of direct talks between Israel and the Palestinians broke down in late 2010 following a dispute over settlement construction in the West Bank and East Jerusalem.
About 500,000 Jews live in more than 100 settlements built since the 1967 occupation of the West Bank and East Jerusalem. The settlements are considered illegal under international law, although Israel disputes this.