Profile: Yair Lapid, Israel's Yesh Atid party leader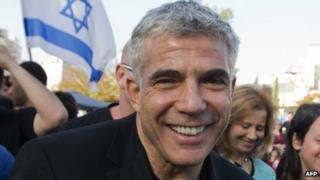 Yair Lapid burst onto the political stage in Israel in a big way following a surprise election result in January 2013.
Already well-known in Israel as a TV personality, though unknown abroad, Mr Lapid emerged as kingmaker - a role which observers had unanimously expected to go to another new face, right-wing ultra-nationalist Naftali Bennett.
Mr Lapid's Yesh Atid (There is a Future) exceeded expectations, winning 19 seats - a third more than had been predicted - and becoming the second-largest party in the Knesset (parliament).
It was a stunning result for a party which Mr Lapid had founded only nine months earlier.
Following five weeks of negotiations, a new Israeli government emerged with Mr Lapid and his party at its heart.
Talk-show host
Born in cosmopolitan Tel Aviv in 1963, Yair Lapid followed in the footsteps of his father, Tommy, another famous journalist-turned-politician.
Ten years ago, Tommy achieved an electoral breakthrough for the staunchly secular, liberal Shinui (Change) Party, when it became the third-largest party and joined then-Prime Minister Ariel Sharon's coalition. The partnership did not last, though, and Shinui was dropped two years later.
Like his father, Yair began his career in the media, as a military correspondent for the Israel Defense Forces (IDF), before becoming editor of a local Tel Aviv newspaper and later a columnist for the centre-right Maariv daily.
His journalistic skills and talent as an effective communicator drew him into television, and from the mid-1990s he established himself as a popular presenter, fronting a succession of talk shows and news programmes.
Mr Lapid became a household name and in January 2012, announced he was swapping journalism for politics with the new centrist party, Yesh Atid.
The party drew considerable interest because of Yair Lapid's celebrity status, but to begin with did not make much of an impact in opinion polls.
However, it came on the scene at a time of major social change in Israel, with unprecedented street protests against the rising cost of living.
Yesh Atid made the issues of affordable housing and help for small businesses a key part of its platform, tapping into popular discontent more effectively than other left-leaning and centrist parties.
After Mr Netanyahu called snap elections in October 2012, Mr Lapid led a low-profile campaign, focussing on economic and secular - rather than territorial - issues.
Mr Lapid called for a more equitable system of national service, ending exemptions for the ultra-Orthodox community - a state of affairs to which there is growing opposition in Israel.
"Unless this policy changes, I feel we're at risk that a whole generation of young Israelis - who went to the army, work hard, pay taxes - one day will look around and say hey, this country is going nowhere," he told Reuters news agency in a pre-election interview.
He has also urged a resumption of peace talks with the Palestinians, and fewer subsidies for Jewish settlements in the West Bank.
On the issue of Iran, though, Mr Lapid has expressed strong support for Mr Netanyahu, who has repeatedly warned of the danger of Iran's nuclear programme.
"If we will come to the point of no return, [beyond] which it will be obvious that... Iran will have a nuclear bomb, then Israel should do something, it should go there and bomb the facility of the nuclear programme of Iran," he told Reuters.
His party's performance in the 2013 polls showed he had struck a chord with the electorate.
Surrounded by jubilant supporters at his campaign headquarters in Tel Aviv when the results came in, Mr Lapid immediately made overtures to Mr Netanyahu, calling for the formation of a broad-based government, one which would "bring about real change".
It is a call which Mr Netanyahu will be unable to ignore.