Russians flee Syrian conflict on planes from Beirut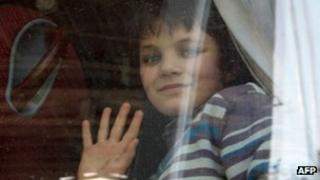 Scores of Russians have flown home after fleeing the violence in Syria - though Russia insists it is not the start of a mass evacuation.
Two planes carrying about 80 Russians, mainly women and children, arrived in Moscow early on Wednesday. They had travelled from Syria to Beirut by bus.
Many international airlines have halted flights from Damascus.
Moscow has been one of President Bashar al-Assad's closest allies during the conflict in Syria.
Russia has not renounced its support for Mr Assad, but has acknowledged he may not win.
It has admitted making contingency plans for a possible future evacuation. There are thought to be thousands of Russian citizens living and working in Syria.
The conflict continued to exact a heavy toll on Tuesday, with the UK-based activist group the Syrian Observatory for Human Rights saying a preliminary count put the dead at about 60.
That included 23 civilians, among them five children. There were also reports of a further seven children being killed, the group said. Seventeen rebels, a soldier who had defected and 18 regular soldiers also died, it added.
The Observatory's reports cannot be independently verified.
'Not an evacuation'
The flights carrying the Russian citizens to Moscow were provided by Russia's emergencies ministry, and Russian media said there were doctors and psychologists aboard.
The planes landed shortly after 05:00 (01:00 GMT) in Moscow and the passengers were given medical checks.
A Russian diplomat told the AFP news agency: "This is not an evacuation. There is no pressure at all on Russians in Syria to leave the country, because there are many areas in Damascus which are completely safe and free from violence or any clashes.
"We are simply helping people who have gone to the Russian consulate in Damascus requesting assistance," the unnamed diplomat said.
He said, however, that the planes scheduled to leave on Tuesday and Wednesday would probably not be the last.
"It will be an ongoing operation. Whenever enough people request assistance at the consulate in Damascus, we will organise for new planes."
Aleksey Malashenko, a member of the research council at the Moscow Carnegie Centre, said Russia was trying to protect its citizens who might be the victim of revenge attacks if the anti-Assad opposition prevails in the war.
"Assad's regime is tottering, and those who intend to take his place are far from being angels," he said.
"Russia's reputation among the opposition is bad since we officially support Damascus. So, Moscow is showing commendable forward-thinking by evacuating Russians."
Separately, a team of emergency directors of UN agencies left Syria on Tuesday after spending four days there.
The head of the team, John Ging, said the extent of the destruction was appalling.
"The impression that all of us were left with was that it is a country being systematically destroyed, by its own people," he said.
"I didn't realise till I was in the country and moving around, just how much has been destroyed already, and we faced so many mothers on the issue of what this has already done in terms of the trauma suffered by their children."
The UN is appealing for more than $500m (£315m) to finance its humanitarian relief efforts this year, and is hoping to attract new commitments at a donors' conference in Kuwait next week.