Snow 'attack' Palestinians held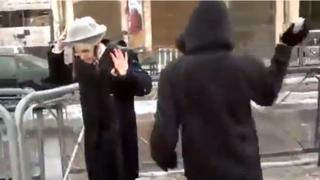 Nine Palestinians from East Jerusalem have been arrested after two Jews were abused and pelted with snowballs, footage of which drew outrage online.
Police said the suspects have been charged with "intending to attack" the two ultra-Orthodox men.
A video shows the group ganging up on the men, shouting insults and taking one of their hats, as at least one Palestinian filmed on a mobile phone.
The footage went viral on social media sites, drawing widespread condemnation.
Police said the incident happened outside the Damascus Gate entrance of Jerusalem's Old City last week, when about 80 Palestinians were having a snowball fight.
They said the group of adults and children started throwing snowballs at the two Haredi (ultra-Orthodox) men as they passed by. Police said the two men asked the group to stop but they carried on.
"It turned into more of an attack than a simple incident," police spokesman Micky Rosenfeld said.
In the video footage, the Palestinians are seen hounding the two men, throwing snow and mocking them. One youth knocks off one of their hats and puts it another youth's head.
The gang then chases the two Haredi men through traffic, laughing and hurling snow.
The Jerusalem Post website says the police became aware of the incident from the online video.
Jerusalem and other parts of the Middle East recently experienced some of the heaviest snowfall in the region for years.