Syria crisis: Foreign Minister Muallem calls for talks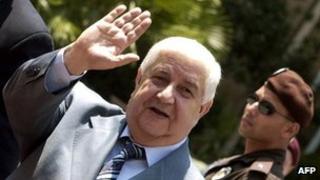 Syria's foreign minister has invited the "nationalistic opposition" to lay down its weapons and join talks to form a new government.
Walid Muallem said any opposition group could join a new cabinet as long as they reject foreign intervention.
He said any discussion of President Bashar al-Assad's future was "unacceptable".
For its part, Syria's leading rebel movement rejects anything short of Mr Assad's removal.
And that group - the National Coalition for Syrian Revolutionary and Opposition Force - would not be party to Mr Muallem's talks as it supports foreign intervention in Syria's civil conflict.
The 22-month-old uprising against Mr Assad is thought to have killed more than 60,000 people.
UN involvement
Mr Muallem said that despite the continued bloodshed, the current government would continue to lay the groundwork for dialogue and transition over the next three months.
"The question is if the violence doesn't stop should we continue with the dialogue or not? I say we should continue," he said.
Mr Muallem reiterated the embattled leader's position that a new parliament and constitution were the only way forward out of the conflict.
He was speaking on Syrian state television a week after United Nations and Arab League envoy Lakhdar Brahimi said the president should not be part of a transitional government.
"No one should dare discuss the position of the president... this is unacceptable," said Mr Muallem.
He called for the UN to intervene to help secure Syria's borders - although the Syrian government would have to agree how this would be achieved.