Rio Tinto boss Tom Albanese resigns over $14bn write-down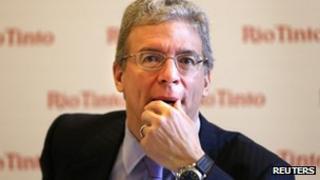 The chief executive of mining giant Rio Tinto has resigned after the company announced a $14bn (£8.7bn) write-down.
The write-down relates to the company's aluminium and coal-mining businesses.
Chief executive Tom Albanese stepped down by mutual agreement with the board, Rio Tinto said, and has been replaced by Sam Walsh, chief executive of the miner's iron ore business.
In a statement, Rio Tinto chairman Jan du Plessis said the scale of the write-down was "unacceptable".
The company's aluminium assets saw a write-down in the range of $10bn-$11bn. This is largely related to the company's purchase of Canadian aluminium giant Alcan in 2007.
It spent $38bn buying the company shortly before the onset of the global financial crisis.
Around $3bn of the write-down relates to Rio Tinto's coal mining operations in Mozambique, which only began shipping coal in June last year.
Doug Ritchie, who led the acquisition of the Mozambique coal assets as head of Rio Tinto's energy division, has also resigned.
"Tom is really taking the blame for a couple of bad acquisitions," said mining analyst John Meyer.
"Alcan was a huge acquisition for its time. It was a raging bull market back then, [but] the world then headed into recession.
"It was exactly the wrong type of business to have bought for a worsening economic environment.
"Rio Tinto didn't do its homework."
Shares fall
Shares in the company, which is headquartered in UK, fell more than 3% in morning trading, before recovering some ground to finish the day down 0.5%.
"The Rio Tinto board fully acknowledges that a write-down of this scale in relation to the relatively recent Mozambique acquisition is unacceptable," Mr du Plessis said.
"We are also deeply disappointed to have to take a further substantial write-down in our aluminium businesses, albeit in an industry that continues to experience significant adverse changes globally."
The write-downs, which reflect a reduction in the value of assets, will be included in Rio Tinto's full-year results due on February 14.