Iraqi officials apologise for prison system 'injustice'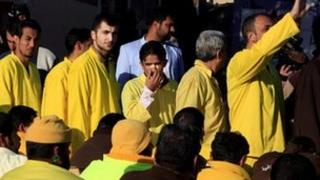 Several weeks after the outbreak of protests in predominantly Sunni provinces of Iraq, the government has conceded that at least some of the protesters' grievances about unfair treatment in prisons are well-grounded.
On Tuesday, Hussein Shahristani, the Deputy Prime Minister for Energy, stood in a prison courtyard in central Baghdad facing 175 prisoners, their relatives, and an army of journalists.
Mr Shahristani heads a high-profile ministerial committee formed to address the demands of the protesters in predominantly Sunni provinces of Iraq, many of which are centred around abuse in Iraqi prisons.
Protesters have been demanding the release of prisoners who they say have been unfairly detained, and in some cases tortured.
One week into its formation, Mr Shahristani's committee was ready for its first media event.
"I apologise on behalf of the Iraqi state to any of you who were detained and kept in detention only to be proven innocent," he told the prisoners.
He acknowledged that some of the prisoners had been kept in detention for long periods of time despite court orders that they be released, and that others had remained in prison even after having served out their sentences.
'Courage to apologise'
"These things happen, not just in Iraq, but in other countries. Officials must have the courage to apologise for them," he said.
Mr Shahristani said the committee had overseen the release of 335 prisoners since its creation earlier this month, and promised to press on until the issue was settled.
The minister also appeared to implicitly acknowledge that security forces unfairly target Sunnis for arrest under counter-terrorism laws after bomb attacks.
"I call on all security forces to refrain from conducting widespread arrests and to deal with the criminal as an individual. From now on we will focus on the real criminals," he declared.
One thing Mr Shahristani did not mention in his speech was torture, but one mother waiting for her two sons to be released was eager to talk.
Khairiya Abbas said her sons were held for three years without going to court. After "three years of electric shocks," she said, "one of them confessed to killing people who turned out to be alive".
Such stories have become common. Abu Muhammad is the father of two prisoners who have been held for more than a year. He said one of them confessed after being severely tortured with electric shocks and made to hang by his wrists with his hands tied behind his back.
"He signed his name on a blank paper. The crimes were taken off a computer, where they store information about unsolved crimes."
It is difficult to find hard evidence of torture in Iraqi prisons, not least because of a lack of transparency in government departments.
Thirty-four people have died in detention in Iraqi prisons in less than four months, according to a document marked "secret" and signed by the deputy justice minister.
The document lists the names of the prisoners and the dates of their deaths, with autopsies attached for only six of them, without a cause of death.
It was sent to the parliament's human rights committee on 21 November last year.
'Switch off the camera'
I asked Haidar al-Saadi, the official spokesman of the justice ministry, how 34 people could have died in prison in such a short period of time.
"It's all dreamt up, there are no such numbers," he said.
"There is a case of a prisoner who died in Taji prison, and he was terminally ill. We urge the media to deal with the official source which is in charge of managing prisons."
I showed him the document and pointed out that the source appeared to be the ministry of justice itself.
Mr Saadi browsed through the papers, then asked if we could "switch off the camera, please?"
He promised to look into it and give us an interview "tomorrow". The next day his assistant told us he was out of the office, and we could not reach him by phone.
Last month, two MPs were stopped from visiting a prison to attend an inquiry into claims that 14 women had been raped or tortured by officers in a prison in Baghdad.
Member of parliament Jaafar al-Moussawi said that although he and his colleague Maha al-Douri had prior authorisation from the public prosecutor, they were prevented "upon orders from the minister of justice" from attending the inquiry.
The ministry of justice said that the two MPs had not followed procedure.