Syrian town of Idlib targeted in multiple bombings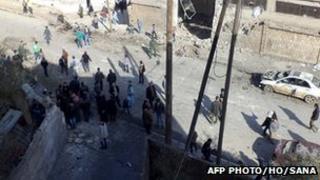 More than 20 people have been killed in near-simultaneous car bomb blasts in the Syrian city of Idlib, government officials and activists say.
The Syrian Observatory for Human Rights said security vehicles, buildings and a checkpoint had been targeted, and that most of the dead were state forces.
But the government said the blasts had hit city squares, killing civilians.
Rebel forces control much of the countryside around Idlib, but government forces hold the city.
Neither side has made much progress in recent months.
The attacks come a day after at least 87 people were killed in an attack on Aleppo University that both sides blame on each other.
The education minister decreed Wednesday a day of mourning following the attack. Syria has written to the UN calling on the international community to denounce "the terrorist massacre".
But rebels say government jets bombed the university.
Elsewhere in Syria on Wednesday, rebels forces in Daraya outside the capital Damascus said they were coming under heavy bombardment after the government reinforced its positions outside the rebel-held town.