Israeli Jack Teitel convicted of murdering two Palestinians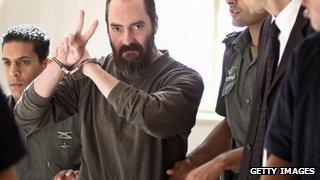 A court in Jerusalem has convicted a US-born Israeli of murdering two Palestinians in 1997.
Jack Teitel, who lived in the West Bank Jewish settlement of Shvut Rachel, was also convicted of attempting to murder two others.
He was also found guilty of assault with intent and incitement to violence between 1997 and 2008.
After his arrest in 2009, his defence lawyers claimed that he was insane and therefore unfit to stand trial.
But, after receiving contradictory psychiatric reports, the court established a year ago that he could be tried.
Teitel will be sentenced in the coming weeks, court officials have said.
According to court transcripts, in 1997 Teitel murdered Palestinian taxi driver Samir Akram, shooting him dead at point-blank range.
Later that year he shot dead Issa Jabarin, a Palestinian shepherd.
Teitel was also convicted of the attempted murder of teenager Ami Ortiz in 2008, whose family are Messianic Jews - Jews who believe in Jesus as a saviour.
Mr Ortiz, who was 15 at the time, was seriously wounded when a bomb, hidden inside a gift, exploded.
In addition, Teitel was found guilty of targeting a prominent left-wing Israeli historian, Zeev Sternhell, with a pipe-bomb hidden in a plant outside his house in 2008.
Teitel was also convicted on the charge of inciting violence and terror, after he pledged to pay a sum to anyone who killed gay Israelis.