Palestinian student killed near West Bank barrier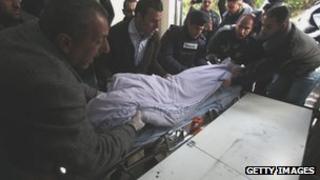 A 17-year-old Palestinian has been shot dead by Israeli forces in the northern West Bank.
Palestinian medical sources say Samir Ahmed Awad died after being hit by three bullets in the village of Budrus.
It happened near a school situated about 200m (650ft) from the barrier that Israel has built in the territory.
The mayor of the village, Mohammed Morar, said students had thrown stones at Israeli soldiers as they left the school, before Awad was shot.
"It was the last day of school and some students threw stones. The soldiers caught him and tried to arrest him, but he escaped so they fired six bullets at him," the mayor told the AFP agency.
A different account, reported by the Reuters agency, suggests that Awad was not involved in stone-throwing and was caught up in the incident when he returned to school on a bus for exams.
An Israeli army spokeswoman said troops had responded after several Palestinians "approached the security fence near Budrus and damaged it in an attempt to infiltrate Israel". The incident is being investigated.
Palestinian medics in Gaza said on Monday that a 21-year-old Palestinian farmer was killed by Israeli fire in northern Gaza, but the Israeli army denied any involvement in that incident.
On Saturday a 21-year-old Palestinian was shot dead by Israeli troops while trying to cross the barrier near the southern West Bank town of Dura.
Israel says the barrier is meant to protect it from militant attacks. Palestinians regard it as a means to grab land inside the West Bank.