Q&A: Israeli elections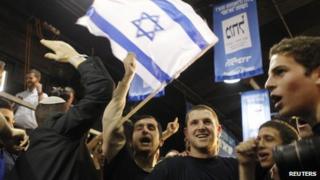 Israelis went to the polls on 22 January, with implications for the peace process with the Palestinians, Israel's relations with the international community and the crisis over Iran's nuclear programme. Here is a guide to the elections and their outcome.
Why were elections held?
Israeli Prime Minister Benjamin Netanyahu called early elections in October. Polls had not been scheduled until October 2013 but the snap election was precipitated by the failure to agree the annual budget with his coalition partners.
Since he came to office in 2009, Mr Netanyahu had led one of the most stable coalition governments in recent Israeli history and enjoyed high popularity ratings; opposition parties meanwhile struggled to reconnect with the electorate. Early elections were seen as a way for Mr Netanyahu to capitalise on this and comfortably renew his mandate.
What was the outcome?
Something of a surprise. After a lacklustre run-up to the polls, Israelis cast their votes amid predictions of a slender win for Benjamin Netanyahu, who would form a new coalition more right-wing than before. All eyes were on Naftali Bennett, who was expected to emerge as kingmaker with his ultra-nationalist Habayit Hayehudi (Our Jewish Home) party.
As it turned out, Habayit Hayehudi was eclipsed by the performance of a new, centrist party, Yesh Atid (There is a Future), led by former TV personality Yair Lapid.
Yesh Atid took the second-highest number of seats, casting doubt on the predicted political complexion of the next government.
Mr Netanyahu's Likud-Yisrael Beitenu alliance gathered 31 seats - fewer than predicted - but sufficient to make it the biggest single bloc and lead talks to form a new government.
Centrist Labour won 15 seats, almost doubling its representation in the Knesset (parliament) and returning as a political force.
The results have left Israel with a hung parliament, with both centre-left and right-wing parties commanding 60 seats each in the 120-seat assembly.
What do the results mean?
In short, probably a less right-wing government than analysts had predicted.
Mr Netanyahu will almost certainly invite Yair Lapid to join his coalition, which both men say they want to be broad-based. Yesh Atid would be a tempering force in terms of resistance to making territorial concessions from other right-wing parties, and its presence in government would likely help enhance Israel's image abroad.
The peace process with the Palestinians, however, is unlikely to to be revived in any meaningful way any time soon. Days before the election, Mr Netanyahu ruled out removing any Jewish settlements in the West Bank and East Jerusalem in the next four years if he was returned to office. The settlements are considered illegal by the international community.
By and large, the right-wing bloc opposes territorial concessions, and while Mr Lapid has urged a resumption of peace talks, the issue does not form part of his party platform.
Domestically, the new government will have to address growing discontent with rising poverty and the cost of living, and the thorny issue of ultra-Orthodox exemptions from national service - all of which generated a wave of support for Mr Lapid.
What were the main election issues?
Traditionally, national security and policies towards the Palestinians are top election issues. While these were still important, other matters emerged as key concerns in these elections.
A recent poll suggested that, for the first time in years, a majority of Israelis put socio-economic issues on a par with security concerns when deciding who to vote for.
In 2011, there were unprecedented protests against rising living costs in a clear sign of anger against the Netanyahu government, while a recent report by Israel's National Insurance Institute revealed nearly one in four Israelis live in poverty.
For Mr Netanyahu though, who campaigned under the slogan "A strong prime minister, a strong Israel", security was - and still is - the most importance issue, with the perceived threat from Iran's nuclear programme at its heart.
He has long warned of the danger of Iran obtaining nuclear weapons capability and has stepped up the sense of urgency in recent months.
Mr Netanyahu has vowed not to let Iran enrich uranium to military grade, a point he has warned Iran could reach by this summer. He has made it clear he would be prepared to order a military strike to stop Iran if all else fails.
"Preventing a nuclear Iran was, and remains, my main goal as prime minister," Mr Netanyahu said just before the polls.
What will happen next?
Israel is now in the unusual position of the centre-left and right blocs tying on 60 seats each. Benjamin Netanyahu's two-party alliance still has an edge though, and the Likud leader will now start discussions with other parties to see if he can establish a viable coalition.
Israeli President Shimon Peres has seven days from the elections in which to task an MK (Member of the Knesset) - usually the leader of the party with the most seats - with forming a government. The appointed MK then has 28 days in which to do so, though the period can be extended.