Funeral held for Palestinian Odai Darawish, shot at West Bank barrier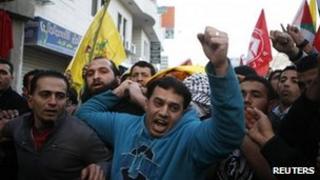 Thousands of people have attended the funeral of a Palestinian man in the southern West Bank town of Dura.
Odai Darawish, 21, was shot dead by Israeli troops while trying to cross the barrier separating Israel from the West Bank, his family said.
Israel said it fired at a man at the barrier near Hebron on Saturday, without confirming it killed him.
Israel says the barrier is meant to protect it from attacks. Palestinians regard it as a means to grab land.
Darawish's family said he was trying to cross into Israel for work when he was shot. After the shooting, Darawish was taken to a hospital in Israel, where he was pronounced dead, they said.
The hospital has not commented on the case.
Israel confirmed troops had opened fire on a man on Saturday night.
"A Palestinian attempted to infiltrate Israel through the security fence," an army spokesman told AFP news agency. "Soldiers at the scene fired toward his legs," she added. The spokeswoman said the incident is being investigated.