Gaza: Palestinian farmer killed by Israeli gunfire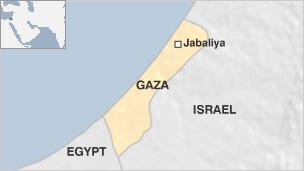 A Palestinian farmer has been shot dead in northern Gaza.
The Hamas-run health ministry said the 22-year-old man was hit by Israeli army fire near Jabaliya refugee camp.
An Israeli military spokeswoman told the BBC he had entered a "forbidden area" near the border fence, along with dozens of other Palestinians.
Israeli soldiers had subsequently acted "according to the rules of disengagement", she added, referring to Israel's unilateral withdrawal in 2005.
Since then, Israeli forces have maintained a self-declared security buffer zone in farmland on the Gaza side of the border fence, which people are prohibited from entering at risk of being shot.
A second Palestinian was also wounded in Friday's incident, AFP news agency quoted a Palestinian emergency services spokesman as saying.
Levels of cross-border violence have dropped sharply since a truce ended an eight-day conflict between Israel and militants in Gaza in November.
Two days after the ceasefire came into effect, a Palestinian was shot dead by Israeli soldiers near Gaza's border with Israel, Palestinian officials said.
After November's conflict, the military reduced the width of the buffer zone from 300m (1,000ft) to 100m.