Deadly storms blanket parts of Mid-East in snow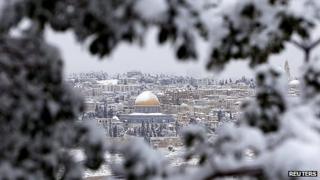 The worst storms to hit the region in a decade have claimed several lives and left parts of Israel, the Palestinian territories and Jordan covered in snow.
Across the Middle East, many schools are shut and thousands of homes are without power.
Heavy snow in Jerusalem on Thursday brought transport to a standstill.
The freezing conditions have brought misery for thousands of Syrians living in refugee camps in northern Jordan, Turkey and Lebanon.
Two weather-related deaths were reported in Lebanon including that of a baby swept away in a flash flood.
Another four people died in the West Bank which has also suffered severe flooding.
Egyptian officials said five French tourists were injured when their minibus overturned on snow-covered mountain roads in the Sinai Peninsula.
In Jordan, police said a blizzard had blocked most roads in the capital Amman and other areas.
King Abdullah II ordered the army to help local authorities keep roads open and rescue those stranded by the severe conditions.
Power cuts were reported in Lebanon, Jordan and Israel.
The snow followed days of heavy rain and high winds across the Middle East and meteorological officials have described it as the worst storm to hit the region in 10 years.
Correspondents say the storm has also badly hit regional economies.
The Manufacturers Association of Israel warned it cost the country's industry at least about 300m shekels (£50m) in damages, most caused by flooding.