Palestinian groups Hamas and Fatah agree on unity deal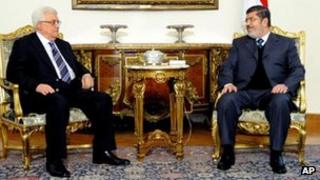 The leaders of the rival Palestinian groups Fatah and Hamas have agreed in Cairo to renew efforts to implement a two-year-old unity deal.
The agreement followed talks, the first in 18 months, between Palestinian leader Mahmoud Abbas of Fatah and exiled Hamas leader Khaled Meshaal.
Earlier, both had separately met Egyptian President Mohammed Morsi.
The groups have been at odds since Hamas ousted Mr Abbas' forces from the Gaza Strip during clashes in 2007.
The two factions set up rival administrations in Gaza and the West Bank.
However, tensions have eased recently. Hamas and Fatah supporters have both been allowed to hold mass rallies in Gaza and the West Bank.
"The two parties agreed to call on all Palestinian factions to implement the reconciliation agreement," Izzat al-Rishq, a member of Hamas' political bureau and a participant in the Cairo talks, told the AFP news agency.
The meeting was held in a "very good and promising atmosphere", Mr Rishq added.
This was confirmed by Egyptian presidential spokesman Yasser Ali.
Old agreement renewed
The two sides signed a unity agreement in April 2011, but it was not implemented. The 2011 accord was meant to pave the way for the formation of a new transitional unity government formed of independents, which was to prepare for legislative elections scheduled to be held before the end of May 2012.
However, the process has stalled.
Hamas and Fatah fundamentally disagree in their approach towards Israel.
Hamas has refused to renounce violence, recognise Israel's right to exist or accept peace accords between the Fatah-dominated Palestinian Authority and Israel.
The Islamist group has been designated a terrorist group by Israel, the US and the EU.
There have been signs of warming ties between Hamas and Fatah ahead of Wednesday's talks.
Last Saturday, Hamas allowed Fatah to hold rallies in Gaza for the first time since 2007.
Hundreds of thousands of supporters of Mr Abbas held mass gatherings in the coastal enclave to mark Fatah's 48th anniversary.
Meanwhile last month, supporters of Hamas celebrated their movement's founding with a rare rally in the West Bank, which is governed by the Palestinian Authority of Mr Abbas.
However, tensions remain and on Tuesday a Hamas-run court in the Gaza Strip sentenced a leader of the al-Aqsa Martyrs' Brigades, which is associated with Fatah, to 15 years in jail.
Fatah said the verdict was unjust and political.