Bahrain rejects jailed opposition activists' appeal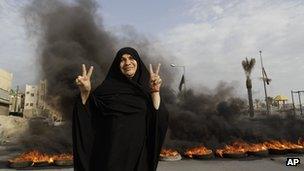 Bahrain's highest appeal court has upheld the sentences of 13 activists for their part in anti-government protests in 2011.
This was their last possible chance of getting their convictions overturned, the men's defence lawyers said.
Some of the activists received life sentences after being convicted of plotting to overthrow the state.
Bahrain has been wracked by unrest since pro-democracy demonstrations began in February 2011.
The 13 who lost their final appeal were among 20 opposition leaders and activists originally convicted by a special military tribunal in 2011 of plotting to overthrow the state.
Eight of them received life sentences, including Abdulhadi al-Khawaja, who last year staged a 110-day hunger strike in protest at his detention.
All 20 lost an appeal in a civilian court last September.
Monday's decision upheld the convictions of the 20, although only 13 - those in detention - had appealed. The other seven had been tried in absentia because they were out of the country or in hiding.
None of the 13 were in court to hear the decision.
A spokesperson for the opposition Al-Wefaq society called the ruling "disappointing."
Jasim Husain told the BBC that it represented " another missed opportunity" to get a stalled reconciliation dialogue back on track.
"This was a verdict made for political reasons. We were expecting at the very least a reduction in the sentences."
Mr Husain alleged that hardliners within the government had influenced the court's decision.
Human Rights groups condemned the sentences, saying there was no evidence that the activists had used or advocated violence during their protests and that their subsequent detention and trial contravened international law.
The only avenue left for the defendants is a royal pardon.
"This verdict is final, there are no more appeals possible, it is the last stage of litigation," defence lawyer Mohammed al-Jishi told Reuters news agency by telephone from Manama.
Security was tight outside the courthouse as a number of protesters gathered to denounce the decision.
The BBC's security correspondent Frank Gardner says the ruling is a clear victory for hardliners in the government and the ruling family, who consider calls for regime change an unforgivable crime.
They will have resisted calls by moderates for pardons, he says. The ruling is likely to draw criticism from human rights groups and stimulate further protests in the Shia districts and villages, our correspondent adds.
The uprising began in Bahrain after protesters occupied a prominent landmark in the capital, Manama, to demand more rights and an end to discrimination against the majority Shia Muslim community by the Sunni royal family.
They were forcibly driven out a month later by security forces after the king declared a state of emergency and brought in troops from neighbouring Sunni Gulf states to restore order and crush dissent.
Since then, at least 60 people - including several police officers - have been killed, hundreds have been injured and thousands jailed.