Israel lifts ban on gravel imports into Gaza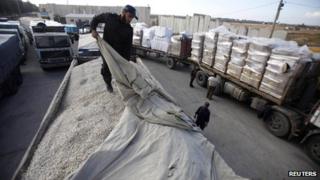 Israel has eased restrictions on allowing building materials into the Gaza Strip, imposed when Hamas came to power there in 2007.
Shipments of gravel for private use are now being let in because a truce with militants in Gaza which ended last month's conflict has held, Israel says.
Israel previously banned most construction materials, fearing they could be used against it by militants.
Israel still largely bars imports and exports from the territory.
It also maintains a naval blockade and controls Gaza's air space, which it says is necessary for Israel's security.
Human rights groups have said Israel's measures are tantamount to collective punishment against Palestinians in Gaza.
A Palestinian official in charge of the crossing point for the goods between Gaza and Israel, Raed Ghalban, said the latest measure was insufficient.
"What Israel is letting in is not enough to rebuild the Gaza Strip," he told the BBC.
"It's not even enough for the needs of the private sector. This is a very small amount and it is not enough. Some kinds of building materials are also still banned, such as iron and cement."
'Permanent easing'
Israel lifted restrictions on imports of consumer goods in 2010, following international pressure after eight pro-Palestinian Turkish activists were killed in clashes with Israeli commandos on board a ship trying to break the naval blockade.
Discussions on facilitating the transfer of goods into Gaza was one of the terms agreed upon under the truce which ended the eight-day conflict between Israel and Palestinian militants in Gaza in November.
Prior to the latest easing of restrictions, Israel had allowed in construction materials for aid agency projects.
"Now we're talking about a permanent easing," Israeli military spokesman Maj Guy Inbar told the Associated Press news agency. "The longer the calm persists, the more we'll weigh additional easing of restrictions that will benefit the private sector."
Israel had banned most construction materials to prevent them being used by militants to make fortifications and weapons.
The relaxation came a day after Egypt also eased its own restrictions, allowing in 1,400 tonnes of gravel. Egypt had blocked the transfer of goods into Gaza since Hamas came to power after winning elections in 2006 and ousting the rival Fatah faction from Gaza the following year.
The Israeli-Egyptian blockade has left Gazans largely dependent on external aid and a black market fuelled by smuggling through tunnels from Egypt.