Syria faces 'hell' if no deal to end crisis - UN envoy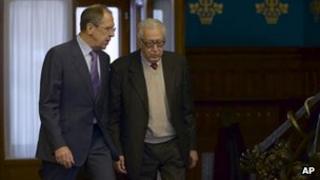 Syria faces a stark choice between a political solution to end 21 months of bloodshed or "hell", United Nations peace envoy Lakhdar Brahimi has warned.
Mr Brahimi, speaking after talks in Moscow, said the conflict had become more militarised and sectarian.
Russian Foreign Minister Sergei Lavrov agreed talks were the only solution.
But he said Syrian President Bashar al-Assad's removal could not be a condition for talks, as demanded by the Syrian opposition.
Mr Brahimi, who arrived in the Russian capital after talks in Damascus with President Assad, expressed concern at the escalation of the war.
It risked becoming "a mainly sectarian conflict, with dire consequences for the Syrian people," he said.
It also risked bringing chaos to the region with neighbouring Lebanon and Jordan overrun by refugees, he said.
"The only alternative is really hell, or a political process, then we have got all of us to work ceaselessly for the political process," Mr Brahimi said.
"The magnitude of the problem that exists now and the magnitude of the problem that exists tomorrow cannot be ignored."
Mr Brahimi is trying to seek a way out of the crisis on the basis of a peace plan approved at an international conference in June, but which left President Assad's role unclear.
Both he and Mr Lavrov agreed that a negotiated end to the conflict was still possible but neither man gave indication of ways out of the impasse.
Mr Lavrov said the opposition's demand for Mr Assad's removal was "wrong" and their refusal to talk to the Assad government a "dead end".
On Friday, Mr Lavrov announced that Russia had agreed to hold talks with the Syrian opposition.
But the opposition rejected the offer and said Russia should apologise for backing Mr Assad.
Russia, as Mr Assad's main and most powerful international supporter, is a key player in finding a diplomatic solution.
Protests against the Syrian government began nearly two years ago.
Opposition groups say more than 44,000 people have been killed since then.