Egypt opposition to mull Morsi talks offer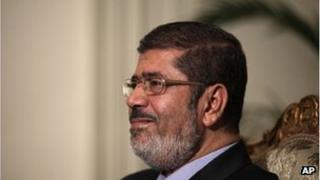 Egypt's opposition has said it will consider an offer of talks from President Mohammed Morsi, after a controversial constitution became law.
Spokesman Hussein Abdel Ghani said the opposition would enter only "real and effective" talks, and dismissed a forum set up by the president as "farcical".
The opposition is to protest on 25 January, two years since the uprising that toppled Hosni Mubarak began.
The Islamist-backed constitution has fuelled a month of violent protests.
It was approved by voters in a referendum.
But opponents say it gives too much power to the Islamists, does not protect the rights of women and minorities - and there was no national consensus to support it.
On Wednesday Mr Morsi hailed the constitution as heralding the dawn of a "new republic", and said talks with the opposition were now a "necessity".
Mr Abdel Ghani said his National Salvation Front would meet soon to discuss Mr Morsi's offer of talks "seriously and with respect".
However, he dismissed the current forum for talks, which was set up by Mr Morsi but has been boycotted by most of the opposition.
"The current dialogue is farcical and theatrical. The president is talking to himself," he said.
Mr Morsi's critics remain deeply opposed to the constitution.
The assembly that drew up the charter was dominated by Islamists after most opposition members withdrew.
Mr Abdel Ghani accused the government of trying to establish an "autocratic tyranny in the name of religion".
Correspondent's say the opposition's continued rejection of the constitution means Egypt's political crisis is far from over.