Syria crisis: Low-key Christmas for Christians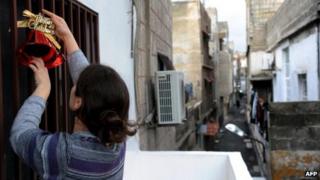 During the Last Supper, Jesus tells his disciples that the bread and wine he shares with them represents his body and his blood.
"This is my body, which is given for you," he says. "This cup which is poured out for you is the new covenant in my blood. Do this in remembrance of me."
In Syria, the real blood of civilians was mixed with real bread in Halfiya, the day before Christmas Eve, according to opposition activists. They say the civilians were bombed by a government warplane as they were queuing at a bakery, killing some 90 of them.
With the country still traumatised by bloodshed, there will be no Christmas celebrations in Syria for the second year in a row.
At this time of the year, Damascus streets used to be filled with Christmas trees and decorations, and not only in Christian neighbourhoods but across the city. Not anymore.
No mood to celebrate
This year there is one shop selling Christmas decorations, but hardly anyone is buying.
"No-one is in the mood to celebrate," the shopkeeper said. "[They have] no money to spare on luxuries like this and don't want to celebrate while people are being killed not far from here."
He points out to the outskirts of Damascus, where government shelling can be heard day and night.
The churches here have called on the community to respect the deaths in the country and not put up outdoor decorations whilst the country is suffering.
Bishop Ishak Barakat of the Greek Orthodox Church of the Cross in Damascus says that with the country locked in conflict, this Christmas will be low-key.
"Like all Syrian society, we are very saddened by what's happening and by the brutal attacks on innocent people," he said.
"As a church, we have decided like last Easter and last Christmas that the services will be limited to church prayers. There won't be any celebrations."
But the bishop is keen to play down the notion that Christians should be seen as being at particular risk.
"We are part of this country, part of Syrian society," he said. "It doesn't mean at all that as Christians that we are excluded from what's happening in the country.
"Today when a rocket falls, it doesn't have eyes to see that this is a Christian or this is a Muslim. It is killing humans. As a church we believe that we are all in the image of God."
But some Christians feel particularly threatened by events in the country.
Many Christians have left Syria for neighbouring countries, some simply because they were caught up in the fighting, while others fear targeted attacks by opposition fighters. It has left the community on edge.
Bitterness and fear
Jaramana, south of Damascus, is a town mainly inhabited by minority groups including Christians.
In recent months, it has been the target of several car bombs with many civilians killed.
Despite that life seems to carry on as normal, but the violence has provoked bitterness.
On a street off Al Raees square where the explosions took place, white ribbons hang from balconies - a traditional Christian sign of mourning. In this street at least 16 people were killed after one bomb explosion.
Death announcements are glued to the walls. I tried to speak to several families but they refused to comment. They are embittered by their loss and fear any more exposure.
One mother received me at home, but refused to talk on the record. Her face was aged and her eyes hardly opened and her voice trembled as she spoke.
She lost two of her sons, she said. One died in an attack at a checkpoint comprising locals who had been armed by the government.
The other rushed to help the injured after a car bomb and was killed in a second explosion. She has one son left, and says she wants peace so he remains alive.
But other members of Syria's Christian community are unafraid to become actively involved in the current power struggle.
Fares is from Jaramana and says he is active on the ground protesting and providing humanitarian aid to displaced people from other parts of the country.
"I don't feel threatened as a Christian," he said.
"This is a regime game to make minorities frightened of the revolution.
"I blame the regime for the attacks in Jaramana and elsewhere in the country, but the Free Syrian Army is also launching attacks in response and civilians are paying the price."
Even among minorities, there is an obvious split between opponents and supporters of the Syrian regime.
But on both sides is the fear that the violence is creating divisions that will take a long time to heal.