Egypt prosecutor Talaat Ibrahim retracts resignation offer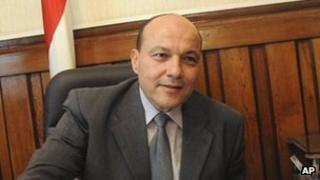 Egypt's new public prosecutor Talaat Ibrahim has retracted an offer to resign made following protests about his appointment, Egyptian media say.
Mr Ibrahim is quoted as saying he made the offer under pressure on Monday, and that it was up to the justice minister to decide whether he should stay on.
Mr Ibrahim was appointed by President Mohammed Morsi last month, after his predecessor was sacked.
The dismissal angered senior judges who saw it as an attack on their authority.
There are growing tensions between President Morsi and his Muslim Brotherhood supporters on one side, and his mainly secular political opponents and the judiciary on the other.
Judges' strike
Mr Morsi adopted sweeping new powers in a decree on 22 November, stripping the judiciary of any power to challenge his decisions.
One of his first decisions was to sack chief prosecutor Abdel Maguid Mahmoud - who was first appointed by former President Hosni Mubarak.
The decree spurred protests and clashes between Mr Morsi's supporters and opponents.
Under pressure, the president revoked the decree but kept the new prosecutor-general in place.
After his appointment, Mr Ibrahim was given the job of re-examining all investigations into the deaths of protesters when Mr Mubarak was in power.
Mr Ibrahim offered to stand down a day after a final round of voting in a referendum on Egypt's controversial draft constitution.
The first round was held at the weekend, with many judges boycotting supervision of the vote.
Opponents say the constitution has been rushed through and fails to protect the rights of minorities, particularly women.